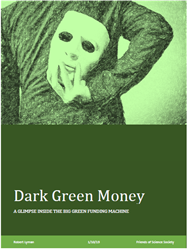 "... the dangers of such [climate] deadline rhetoric suggest the need for the IPCC to take responsibility for its [SR15] report and openly challenge the credibility of such a deadline."
CALGARY, Alberta (PRWEB) July 25, 2019
On July 22, 2019, the Washington Post published an op-ed claiming "Canada's Conservatives Must Stop Defending Big Oil with Conspiracy Theories," wherein the author attempted to pass-off the well-documented foreign-funded Tar Sands Campaign against the Alberta oil sands as simply a shift in global markets, says Friends of Science. A 2013 article in Counterpunch documents the Tar Sands Campaign and includes a download of the strategy document. Strategy Paper: offsettingresistance.ca/TarSandsCoalition-StrategyPaper2008.pdf
Part of Alberta Premier Kenney's election mandate was to establish a "War Room" to investigate and counter such misinformation.
A July 17, 2019 op-ed in the Financial Post by "Climate Keith" Stewart of Greenpeace Canada misrepresents oil sands emissions intensity. In a July 23, 2019, Friends of Science blog post, Robert Lyman, Ottawa energy policy consultant, former public servant and diplomat, disputes Climate Keith's claims, referring to published data from the California Air Resources Board (CARB), showing that oil sands emissions intensity is the same or less than other crudes.
Greenpeace Canada and over 100 international environmental groups (ENGOs) have been funded by the Tar Sands Campaign and have aggressively pursued government officials, oil companies, banks, and institutional investors in a quest to shut down this important part of Canada's economy. The ENGO financial influence and Tar Sands Funding is documented in a series of reports issued in 2019, four compiled by Robert Lyman and one by Friends of Science.
ENGOs and activists like "Climate Keith" commonly claim a climate crisis, 'emergency' or that there is only '12 years left' - disputed by a recent paper written by climate scientists and published in Nature Climate Change, entitled "Why setting a climate deadline is dangerous." The authors state: "The publication of the IPCC Special Report on global warming of 1.5°C paved the way for the rise of the political rhetoric of setting a fixed deadline for decisive actions on climate change. However, the dangers of such deadline rhetoric suggest the need for the IPCC to take responsibility for its report and openly challenge the credibility of such a deadline."
The entire premise of the attack on the Alberta oil sands is based on out-dated perceptions that carbon dioxide drives global warming. Since the 2013 IPCC report, wherein the 15-year hiatus in global warming was reported, the scientific consensus has shifted to affirm that carbon dioxide is not the control knob on climate. This has been reported by Dr. Judith Curry and Prof. Emeritus Francois Gervais, among others. Gervais explains that the CO2 link to climate change is now challenged by evidence of a natural 60-year cycle in this video – "Cooling of Climate sensitivity - Anthropogenic CO2 Global Warming Challenged by 60-Year Cycle" LINK: youtu.be/wU1PKa0W8Gc
Claims of climate risk, propagated by the Task Force on Climate Risk Disclosure are based on out-dated climate science. The Alberta oil sands industry, and Canada's economy are being decimated by the Tar Sands Campaign misinformation; when in fact complex interactions of solar and ocean cycles are the main drivers of climate change.
About
Friends of Science Society is an independent group of earth, atmospheric and solar scientists, engineers, and citizens who are celebrating its 16th year of offering climate science insights. After a thorough review of a broad spectrum of literature on climate change, Friends of Science Society has concluded that the sun is the main driver of climate change, not carbon dioxide (CO2).
Friends of Science Society
P.O. Box 23167, Mission P.O.
Calgary, Alberta
Canada T2S 3B1
Toll-free Telephone: 1-888-789-9597
Web: friendsofscience.org
E-mail: contact(at)friendsofscience(dot)org
Web: climatechange101.ca