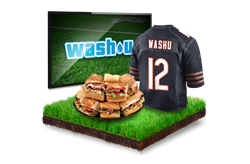 CHICAGO (PRWEB) December 04, 2020
Each Game Day Contest entrant receives a complimentary WashU Express wash valued at $5 and is automatically entered for an even bigger prize: For each Chicago Bears home football game, one lucky winner out of the entry pool is drawn and receives a new 65'' TV, $200 worth of catering, and a $200 gift card to the NFL Gift Shop.
"We are thrilled to be offering this exciting opportunity for some enjoyment and cheer during what has been, for many, an exceptionally stressful year," said Michael Timmer, Director of Wash Operations- WashU Car Wash. "Our goal is for everyone who participates in the Game Day Contest to be gifted a free wash and have a chance at a really generous prize package to brighten 2020."
2 Game Day winners, Andrea T. and James R., have already been announced and awarded their Game Day prize packages. There are 3 more drawing dates forthcoming, meaning 3 more opportunities to win the same large prize package.
"Make sure that if you haven't put your hat in the ring yet, you claim your free wash and entries while there's still time to play at washucarwash.com/game-day! The Game Day Contest is completely free," said Timmer.
Future Game Day drawing dates include the following Chicago Bear home games: December 6th, December 13th, and January 13th. WashU Monthly Pass members each receive 10 entries toward the Grand Prize, while nonmembers receive 1 entry each. The Game Day Contest rules allow nonmembers to become Monthly Pass members in order to upgrade to 10 entries.
###
About WashU Car Wash
WashU, a Chicago-based car wash, is a family-owned and locally-operated business that delivers eco-friendly car washes to the greater Chicago area. For more information about WashU's Game Day promotion or to play, please visit washucarwash.com/game-day.