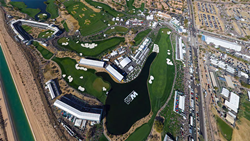 XP360 has been a gamechanger for us and we will use it every year to help make the Waste Management Phoenix Open the best stop on the PGA TOUR. -Cheryl Hussey, Assistant to the Tournament Chairman
PHOENIX (PRWEB) February 04, 2021
AerialSphere, the only company to combine 360-degree aerial imagery with location data, today announced that the Waste Management Phoenix Open has been using XP360 to better understand, plan and develop the TPC Scottsdale Stadium Course and surrounding tournament site. The yearly PGA TOUR event attracts close to 700,000 fans each year and has an annual economic impact of over $390 Million.
The tournament committee uses the immersive XP360 experiences daily, along with others in their group, including the Thunderbirds, TPC, marketing, maintenance, and building/construction vendors. XP360 has given the group numerous vantage points of the tournament and surrounding areas, allowing them to zoom in and out, as well as pan and tilt to get the exact perspective they need for their specific tasks.
"I honestly don't know what we did before we started using XP360 from AerialSphere on a daily basis. It helps us with every facet of planning this tournament - every member of our team uses it for something different," said Cheryl Hussey, Assistant to the Tournament Chairman. "XP360 has been a gamechanger for us and we will use it every year to help make the Waste Management Phoenix Open the best stop on the PGA TOUR."
One of the recent spectator concession additions to the tournament – "The Ridge" was aided with new perspectives that XP360 was able to provide everyone – the planning group had a better feel for terrain, layout, and spectator traffic allowing for the best possible configuration of the 36,000 square foot hospitality platform.
"The Waste Management Phoenix Open highlights an incredibly valuable application of XP360 for the event and entertainment industries," said Mike Smith, AerialSphere's CEO. "We love working with the Waste Management Phoenix Open and love the fact that we get to experience the amazing tournament firsthand every year."
Read the full case study here: https://www.aerialsphere.com/aerialsphere-case-study-waste-management-phoenix-open/
About AerialSphere
AerialSphere is the only company to combine 360-degree aerial imagery with location data, giving companies new vantage points to make better informed decisions. Built upon nearly a decade of research and patented technological innovation, AerialSphere is changing how companies plan, develop and market their properties, products, and services. Our dedication to innovation has positioned us as a driving market force in a number of industries including real estate, retail, insurance and entertainment. AerialSphere has been trusted by 4 of the top 5 commercial real estate brokerages and has been recognized twice in the last year as one of the most innovative technology companies in Arizona. To learn more about AerialSphere, visit: https://aerialsphere.com.