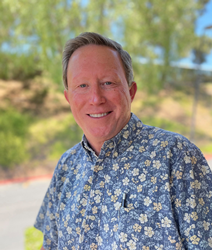 "Joining this incredible team to develop and promote their current and future products will create a healthier, more sustainable earth," exclaimed Gary Eaton
SAN DIEGO (PRWEB) May 25, 2021
Utilis, the Israel-based earth observation company, hired water industry expert, Gary Eaton as their first Product Manager in San Diego, CA. Eaton will manage numerous Utilis products that will use satellite technology to drive efficiency and sustainability for organizations across the globe.
"As we prepare for our expansion into satellite-derived products across multiple markets, Gary brings his many decades of experience to guide us towards success," stated his supervisor at Utilis, Karen Dubey, Corporate Marketing Director.
Eaton was the leader of the team that implemented the first use of acoustic fiber optics to monitor pipeline condition in the United States. He brings 35 years of experience with water utility planning, construction, and operations to Utilis. While Director of Operations & Maintenance for the San Diego County Water Authority, Eaton was responsible for all aspects of water delivery including water treatment, water distribution, and energy generation from solar, in-line and pumped storage operations. He also participated in the planning, design, construction, and operation of numerous capital improvement projects.
"I am happy to bring my passion for using innovation in the water utility industry to Utilis. My daily work and life are positively impacted by what Utilis is doing to reduce water waste," stated Eaton. "Joining this incredible team to develop and promote their current and future products will create a healthier, more sustainable earth."
Eaton has a keen interest in the use of new technology to solve difficult problems. He was the first Chief Innovation Officer for the San Diego County Water Authority and was selected to participate in the development of national innovation guidance standards, "Fostering Innovation in Water Utilities," which was published in 2017.
As CEO of Gary Eaton Consulting, Gary provided coaching and mentoring to staff and executives in a wide range of technical and business management areas to optimize existing processes and improve product marketing. Gary received his M.S. in Operations Management from the University of Arkansas. Gary enjoys spending time with his family, travel, sports, landscaping, and animals of all kinds – especially Golden Retrievers.
***
ABOUT UTILIS
Utilis provides data driven solutions for water utilities, government agencies, and the greater infrastructure industry. They use synthetic aperture radar (SAR) data from satellites and turn it into large scale decision support tools. The proprietary algorithms and highly educated staff of scientists and engineers are the key to the company's mission, to advance planet Earth's resource resilience through SAR analytics. Successfully commercializing their first product, leak detection in 2016, Utilis projects have resulted in saving more than 7000 million gallons of potable water and 17,000 MWH of energy per year, in support of United Nations Sustainable Development Goals (SDG). Headquartered in Israel, with offices in the United States and United Kingdom, Utilis currently provides innovative data solutions in multiple verticals around the globe. For more information on Utilis and to learn more about their technology visit https://utiliscorp.com/