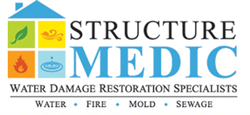 We've seen a lot of damage to walls and carpeting. Water can drip in from busted gutters or drop down walls depending on where the pipe burst.
Atlanta, GA (PRWEB) February 26, 2014
StructureMEDIC, water damage remediation specialists in Atlanta, are working with homeowners affected by the recent winter storms that thrashed the city with snow, ice, power outages and freezing temperatures. The extended periods of cold caused pipes to freeze and burst, leading to extensive water damages in homes throughout the metro area. StructureMEDIC is working with homeowners to replace broken pipes and repair the damages.
Water pipes in homes throughout the south are typically less insulated than those found in homes in northern states where freezing temperatures are common. Atlanta homeowners are advised to drip faucets to avoid burst pipes. When a pipe freezes, the frozen water blocks all water flow which causes a build-up in pressure. This pressure causes the pipe to break.
StructureMEDIC provides full remediation services. The team includes a full-time plumber who can repair or replace broken pipes as necessary. The water damage team dries out carpeting, flooring and walls. Depending on the extent of the damage, StructureMEDIC will remove and replace ruined carpeting and padding, and will replace damaged drywall in walls and ceilings.
"The most recent storm caused a lot of damage. It knocked out power to many, many homes. That contributed to all of the burst pipes because the interior temperature in the homes became too low to offset potential freezing caused by the chilly exterior temperatures," said Stephen Elliott, owner of StructureMEDIC. "We've seen a lot of damage to walls and carpeting. Water can drip in from busted gutters or drip down walls depending on where the burst pipe was located, which can drag damage throughout the home."
StructureMEDIC is one of the most experienced water damage restoration teams in the state of Georgia. The dedicated crew is on call 24 hours a day, 7 days a week and provides the following services: water damage cleanup, fire damage restoration, smoke and soot cleanup, de-humidification, mold removal, claims inventory service, sewage backup repair, HVAC/air duct cleaning, deodorization, and bio hazard cleaning. If recent weather has caused water, mold, smoke, or fire damage to your home or business, call StructureMEDIC's team toll free at 1-800-764-4613. You can also visit them at http://www.structuremedic.com for additional information.