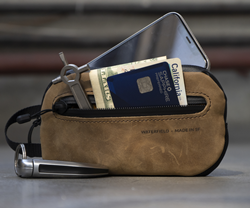 The Cycling iPhone Wallet is so smooth and lightweight, once you start riding, you won't even feel it in your jersey pocket.
SAN FRANCISCO (PRWEB) October 13, 2020
WaterField Designs, a local San Francisco manufacturer of laptop sleeves, bags, and cases for digital gear, introduces the Cycling iPhone Wallet—a sleek wallet for cyclists that holds the essentials they take on every ride: an iPhone, cash, cards, ID, car key, and multitool. The compact ballistic nylon and full-grain leather wallet is custom-fit to cycling jersey pockets and is easily accessible from there with one hand. Available in two sizes, this water-resistant wallet protects an iPhone with soft padding in a dedicated compartment and looks great whether on or off a bike.
"The Cycling iPhone Wallet is perhaps the only iPhone case designed with cyclists in mind," said company owner Gary Waterfield. "Those cyclists who carry their tools in a saddlebag now have a comfortable case to carry their iPhone, car key, and cash in their jersey pocket, rather than tossing them all together, unprotected and bulky in a Ziplock bag, as many cyclists are known to do."
For cyclists, iPhones have become almost a vital bike tool with riders using apps like STRAVA to track miles and to share routes with friends. The Cycling iPhone Wallet slides smoothly into a jersey pocket and is so lightweight and comfortable, that cyclists barely feel it is there. The Wallet is easily retrieved by reaching around with one hand and hooking a finger into a convenient top loop.
Features at a glance:

Sturdy ballistic nylon helps block sweat and keep iPhone dry.
Full-grain leather panel adds a touch of luxury.
Soft, no-scratch material lines dedicated iPhone compartment.
Two sizes fit larger and smaller iPhones and slim cycling jersey pockets.
Front, quick-access, zippered pocket stows cash, cards, multitool, ID, and glasses cleaning cloth.
Clever top finger loop slides case easily out of a jersey pocket with one hand.
Smooth-gliding waterproof zippers grant easy access.
Handcrafted in WaterField's San Francisco studio.
For cyclists who like to carry a full tool kit in their jersey pocket, WaterField offers the Jersey Cycling Tool Case. These new cycling cases join the WaterField Cycling Collection and diverse iPhone Case Collection.
Availability & Pricing
Cycling Phone Wallet
Price: $59
Small: 6.5 x 0.75 x 3.5 inches; 3 oz.
Large: 7 x 0.75 x 3.5 inches; 3.1 oz.
Colors and materials: premium full-grain leather—black, blue, crimson, grizzly. Black ballistic nylon. Lightly-padded, scratch-free lining. Waterproof zippers.
Available now.
About WaterField Designs
WaterField Designs is an innovative San Francisco designer and manufacturer of bags and cases for tech-savvy consumers who want to stylishly and responsibly transport their technology. WaterField manufactures custom-fitted, high-quality bags and cases for a full-range of laptops, smartphones, tablets, gaming devices, and other digital gear. All products are manufactured to exacting standards in San Francisco. Company founder, Gary Waterfield is an avid lifelong cyclist who regularly participates in cycling events and has logged thousands of miles the U.S., Canada, Europe, Australia, and New Zealand. More information at "Our Story."