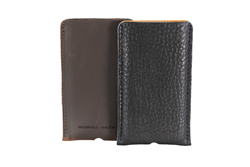 The Executive Leather iPhone Sleeve is a stunner. Simple and effective, it keeps the iPhone protected in transit while letting you grip the beautiful iPhone when you're using it.
SAN FRANCISCO (PRWEB) September 12, 2019
WaterField Designs, a leading San Francisco manufacturer of custom laptop sleeves, bags and cases for digital gear, introduces the sophisticated Executive Leather iPhone 11 Sleeve, a high-end accessory in custom-fitted sizes for the Apple iPhone 11, 11 Pro, and 11 Pro Max naked or within an Apple Case. WaterField's new iPhone 11 case protects the iPhone from bumps and scratches with sumptuous full-grain cow or pebbled bison leather, each lined with soft Ultrasuede® that protects and cleans the screen. Whether slid into a coat or briefcase pocket, or attached to a belt or bag loop, the Executive Leather iPhone Sleeve bestows elegance on any wardrobe.
"Apple's elegant new iPhone 11 deserves an equally elegant case," said company founder Gary Waterfield. "The slim Executive Leather iPhone 11 Sleeve is a stunner. Simple and effective, this high-end accessory keeps the iPhone protected in transit while letting you grip the beautiful stainless steel and glass device when you're using it."
Executive Leather iPhone 11 Sleeve Features:

Sumptuous full-grain brown cow or black pebbled bison leather highlight the iPhone's beauty.
Soft, scratch-free Ultrasuede® liner in subtle contrasting colors protects the iPhone, helps it slide in effortlessly, and cleans the screen with each removal.
A bottom cut-out enables in-case charging and earbud connection. (Text and call notifications remain audible with iPhone inside.)
An add-on leather loop and carabiner are available for those who find it convenient to attach the case to a belt or strap.
Six custom sizes snugly cradle the iPhone 11, 11 Pro, or 11 Pro Max, either naked or inside an Apple Case.
Each case is meticulously hand-crafted in the WaterField San Francisco, California maker studio.
The new Executive Leather iPhone 11 Sleeve is a statement piece for executives and other style-conscious iPhone users. WaterField offers additional iPhone 11 cases to suit a variety of lifestyles including: the Ranger iPhone Case, a full-grain leather iPhone holster with an innovative fastener for enhanced security and rare-earth magnets that firmly attach to clothing or straps; the Fused Suede Case, a refined dual-layer Ultrasuede® iPhone sleeve that protects against bumps and scratches; and the Marquis Crossbody Pouch, a modern minimalist bag that holds an iPhone and other essentials so comfortably it can be worn all day, leaving pockets liberated and hands free.
For cyclists, WaterField's Cycling Ride Pouch and Cycling Club Pouch fit perfectly into a cycling jersey pocket allowing cyclists to keep iPhones close at hand on long rides. The Finn Wallet and Finn Access Wallet each keep cash, cards, and an iPhone 11 secured and organized in one place.
Availability & Pricing
The Executive Leather iPhone Sleeve
Price: $69. Optional loop and carabiner: +$5.
Sizes: Six individual custom-fitted sizes for the iPhone 11, iPhone 11 Pro, and iPhone 11 Pro Max — naked or within an Apple Case.
Colors and Materials: Black pebbled full-grain bison leather with Camel-colored Ultrasuede® liner or Chocolate distressed full-grain cow leather with Black Ultrasuede® liner.
The Ranger iPhone Case: $89; full-grain, naturally-tanned Black or Chocolate (distressed) leather.
The Fused Suede Case: $29; two layers of Ultrasuede® ER fused together: Ash with Camel interior, Camel with Ash interior, Navy with Light Blue interior, or Red with Ash interior.
The Marqui Crossbody Pouch: $79; Black ballistic nylon with full-grain leather panel in Black, Blue, Chocolate, Grey, or Red. YKK zippers.
About WaterField Designs
WaterField Designs is an innovative San Francisco designer and manufacturer of bags and cases for tech-savvy consumers who want to transport their technology stylishly and responsibly. WaterField manufactures custom-fitted, high-quality cases and bags for a full-range of laptop computers, smartphones, tablets, gaming devices and other digital gear. All products are manufactured to exacting standards entirely in San Francisco. More information at "Our Story".
WaterField Designs, SFbags, Executive Leather Sleeve for the iPhone 11, Ranger Phone Case, Fused Suede Case, Marqui Crossbody Pouch, Finn Wallet, Finn Access Wallet, Cycling Ride Pouch, and Club Cycling Pouch are trademarks of WaterField Designs. Other company and product names may be trademarks of their respective owners.