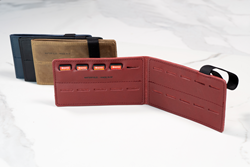 Made from our premium, naturally-tanned leather, this Game Card Wallet will age beautifully the more it's used.
SAN FRANCISCO (PRWEB) November 27, 2018
WaterField Designs, San-Francisco maker of bags and cases for digital gear, announces the new, full grain leather Nintendo Switch Game Card Wallet. With slots to securely hold up to 20 game cards, the slim, handsome game card holder slides easily into the WaterField SwitchPack or MultiPlayer Pro.
"Now that more games are available for the Nintendo Switch Gaming Console, we doubled the size of our popular Game Card Holder to hold gamers' growing libraries," said Gary Waterfield, company founder. "Made from our premium, naturally-tanned leather, this Game Card Wallet will age beautifully the more it's used, and it's compact enough to slide easily into your Switch Case or bag."
The new Leather Game Card Wallet is a billfold-style leather wallet with 20 slots to hold Nintendo Switch physical game cards. Available in black, blue, crimson or grizzly double-layer leather, the game holder stays shut with an easy-to-use stretch nylon strap closure. The protective, organizational game wallet makes an elegant addition to any Nintendo Switch gamer's repertoire.
WaterField Nintendo Switch Accessories were born out of a collaborative effort between WaterField's design team and gaming customers. Through a series of surveys and continuous feedback, the team learned what Switch elements users take along in various scenarios and developed a full line of Switch cases to meet those needs. The Switch Pouch stows the Switch with Joy Cons attached, games and ear buds in an ultra-soft lined case — ideal for minimalists. The sophisticated leather and ballistic nylon Switch CitySlicker, with five built-in game slots, holds the console, cables, and power, in a scratch-free padded cocoon, perfect for every-day use and commutes. For packing a more complete set, the WaterField Switch Pack transports all that plus extra Joy Cons, a Pro Controller, a Hori stand, and more. The compact and lightweight MultiPlayer Pro Case carries the entire set-up — everything a gamer needs for parties or on extended travel.
Since the company's inception in 1998, WaterField Designs has incorporated customer feedback into the design of its various bags and cases. Customer feedback gathered from surveys, social media and popular Nintendo forums has been, and continues to be, instrumental in driving the designs of our Switch Collection.
Availability & Pricing
Leather Game Card Wallet: Price: $29
Colors: Black, Blue, Crimson or grizzly, naturally-tanned, full grain leather.
Dimensions: 12.75 x 3.6 x .125 inches. (Folded: 6.25 x 3.6 x .25 inches)
10-Game Card Holder: Price: $19. Same material and colors.
Switch Pouch: Price: $49 (ballistic nylon or waxed canvas); $89 (leather).
CitySlicker: Price: $79.
SwitchPack: Price: $129.
MultiPlayer Pro: Price: $149.
About WaterField Designs
WaterField Designs is an innovative San Francisco designer and manufacturer of bags and cases for tech-savvy consumers who want to stylishly and responsibly transport their technology. WaterField manufactures custom-fitted, high-quality cases and bags for a full range of laptop computers, smartphones, tablets, gaming devices and other digital gear. All products are manufactured to exacting standards entirely in San Francisco. More information is available at the company website under "Our Story."
WaterField Designs, Switch CitySlicker, SwitchPack, Switch MultiPlayer Pro Case, and SFBags are trademarks of WaterField Designs. Other company & product names may be trademarks of their respective owners. © 2018