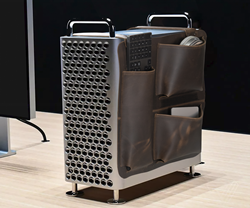 The Saddle keeps everything organized at your side, saving valuable time. The Mac Pro is too stunning a machine to be relegated to a corner, so we created this upscale functional piece to showcase Apple's master craftsmanship."
SAN FRANCISCO (PRWEB) June 22, 2020
WaterField Designs, an innovative maker of custom laptop sleeves, and premium bags and cases for digital gear, introduces the elegant Mac Pro Saddle — a full-grain leather Mac Pro accessory case that drapes over the Mac Pro to centrally organize the suite of multi-sized devices power users rely on to work efficiently. Like the Apple Mac Pro itself, the Mac Pro Saddle is a work of art. The handcrafted natural leather Saddle with the Mac Pro's stainless steel 3-D grille pattern create a striking juxtaposition of old-school and modern craftsmanship.
The Mac Pro Saddle is designed to complement the quality and beauty of the Mac Pro. The Saddle overlays the top of the computer, exposing the handles and most of the computer top, framing the vertical grille pattern, and leaving air vents unobstructed. The supple leather Saddle sides, adorned with pockets for assorted gear, cover the austere steel sides of the computer adding an aura of warmth to any workspace.
"We make bags and cases that keep users organized and efficient," explained company owner, Gary Waterfield. "The Mac Pro Saddle provides power users — CAD designers, audio engineers, animators — an accessible place to store essential accessories, saving valuable time while keeping their workstation clean. The Mac Pro is too stunning to be relegated to a corner; this upscale functional piece showcases Apple's master craftsmanship."
The leather Saddle literally transforms the Mac Pro into the workhorse it claims to be. Two thick leather straps lined with rubber grips made from recycled tires keep the Saddle in place. One side includes a long pocket for the 10-key Magic Keyboard and two large pockets to hold headphones, external hard drives, or other bulky accessories. Three smaller pockets on the opposing side hold a mouse, cords, and more. Underneath those, one large horizontal pocket houses the included WaterField Medium Gear Pouch, a multi-pocket case for storing and organizing small items like SD cards, thumb drives, dongles, and other easy-to-misplace items.
Each Mac Pro Saddle is cut from one consistent leather batch and every stitch is precise. WaterField Designs bags, cases, and accessories are handcrafted to exacting standards at the company's San Francisco workshop.
Availability & Pricing
The Mac Pro Saddle
Price: $399. Includes Medium Gear Pouch ($45 Value).
Color and materials: Premium, full-grain, chocolate-brown leather. Protective grip liner on straps. Metal rivets. Metal snap.
Dimensions and weight: 36.5 x 17 inches; 2.6 lbs.
Available now for preorder exclusively from SFbags.com. Shipping begins late July.
About WaterField Designs
WaterField Designs is an innovative San Francisco designer and manufacturer of bags and cases for tech-savvy consumers who want to stylishly and responsibly transport their technology. WaterField manufactures custom-fitted, high-quality cases and bags for a full-range of laptop computers, smartphones, tablets, gaming devices, and other digital gear. All products are manufactured to exacting standards entirely in San Francisco. More information is available on the company website at "Our Story."
WaterField Designs is a trademark of WaterField Designs. Other company and product names may be trademarks of their respective owners. Copyright © 2020 WaterField Designs. All Rights Reserved.