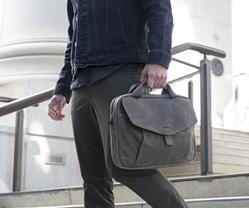 "The Outback Duo is super lightweight, and compact for when you only need the basics, but the basics include two devices. It holds more than you'd think, in spite of its super-slim profile."
SAN FRANCISCO (PRWEB) June 23, 2020
WaterField Designs, a leading San Francisco manufacturer of custom-fitted laptop sleeves, bags, and cases for digital gear, introduces the compact Outback Duo—a minimalist laptop brief with dual padded compartments to protect two laptops or a laptop and a tablet with additional space for daily work necessities. Now more than ever people carry more than one device at all times — one to Zoom™ and one to take notes, check documents, or draw prototypes. With a premium leather flap and in-case charging capability, the ultra-slim Outback Duo laptop bag keeps both devices protected and within reach whether working from home or safely at the office.
"Now that I'm back in the office, I need my laptop for digital team meetings, my phone for communicating with employees working from home, and my iPad for sketching out design ideas," said company owner Gary Waterfield. "The Outback Duo carries all three along with my power bricks and cords, plus my personal basics, all while staying amazingly compact, lightweight, and comfortable to carry."
Features:

Two laptop compartments encased by impact-resistant foam are lined with plush, no-scratch fabric
Clever laptop compartment cut-outs allow for in-case laptop charging
Gold, water-resistant liner lights up interior for increased visibility
Waterproof zipper secures main compartment and maintains clean lines
Expandable front pocket—inspired by old-world saddles—closes with full-grain, double-layer, leather flap and strong self-finding magnet
Front pocket includes interior organization pockets for pens, phone, and wallet
Three carry options: comfortable leather-lined handles, a detachable suspension shoulder strap, and a wheeled suitcase passthrough
Two bag-size options protect dual laptops up to 14-inch MacBook Pro or up to 16-inch MacBook Pro dimensions
Choice of rugged, tan waxed canvas or sturdy, black ballistic nylon coupled with sumptuous full-grain, dual-layer leather flap creates an eye-catching, professional look
The new Outback Duo laptop bag joins WaterField Designs' sophisticated collection of bags and cases with protective compartments to carry both a laptop and a tablet: the Hitch Crossbody Brief, Executive Leather Messenger, Cargo Bag, Bolt Briefcase, Executive Leather Laptop Briefcase, Staad Attaché, Air Porter Carry-On, and a selection of WaterField laptop backpacks. All WaterField bags and cases are handmade to exacting standards in the company's San Francisco workshop.
Pricing & Availability
Outback Duo™
Price: Compact—$229. Full—$239.
Colors and Materials: Black ballistic nylon with black or chocolate full-grain leather, or tan waxed canvas with chocolate full-grain leather. Removable Supreme Suspension Strap. Metal, self-finding magnet. All-metal hardware.
Dimensions and weight: Compact—14.5 x 9.75 x 2 inches—padded compartments for two laptops up to MacBook Pro 13-inch (or future 14-inch) size; Canvas—1.8 lbs; Ballistic—1.6 lbs.
Full—16 x 10.5 x 2 inches—padded compartments for two laptops up to MacBook Pro 16-inch size; Canvas—2 lbs; Ballistic—1.8 lbs.
Preorder now. First production run ships July 10, 2020.
About WaterField Designs
WaterField Designs is an innovative San Francisco designer and manufacturer of bags and cases for tech-savvy consumers who want to stylishly and responsibly transport their technology. WaterField manufactures custom-fitted, high-quality cases and bags for a full-range of laptop computers, smartphones, tablets, gaming devices, and other digital gear. All products are manufactured to exacting standards entirely in San Francisco. More information is available on the company website at "Our Story."
Press Contact
Heidi Marzke
WaterField Designs
heidi@sfbags.com
WaterField Designs, Outback Solo™,Outback Duo™, Hitch Crossbody Brief™, Executive Leather Messenger™, Cargo Laptop Bag™, Bolt Briefcase™, Executive Leather Laptop Briefcase™, Staad Attaché™, the Air Porter Carry-On™ are trademarks of WaterField Designs. Other company and product names may be trademarks of their respective owners. Copyright 2020. All rights reserved.