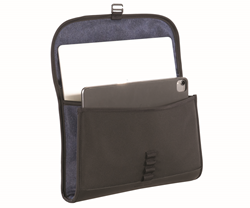 It's portable like a packing cube so you can transfer it from bag to bag, easily remove it at TSA, or even add a strap to use it as a minimalist shoulder bag. And it's sleek. It'll turn some heads."
SAN FRANCISCO (PRWEB) April 20, 2021
To celebrate today's Apple announcement, San-Francisco maker WaterField Designs introduces the slim and elegant Double-Take iPad and MacBook Sleeve to protect and transport both devices at once. Increasingly, people routinely carry either an iPad Pro and a MacBook or two laptops, one personal and one professional. The modular Double-Take Sleeve, with two padded compartments, a designated Apple Pencil slot, a simple accessory pocket, and the flexibility to transfer it from bag to bag or to carry it over one shoulder, affords dual-device users the agility they need to support their digital lifestyles.
"We hear from more and more customers who always carry two devices, so we designed the Double-Take iPad and MacBook Sleeve to maximize their convenience," said company owner Gary Waterfield, "Slim, protective, and lightweight, the Double-Take fits two laptops, a tablet and a laptop, two tablets, or one device and accessories. It's portable like a packing cube so you can transfer it from bag to bag, easily remove it at TSA, or even add a strap to use it as a minimalist shoulder bag. And it's sleek. It'll turn some heads."
The interior of the slim Double-Take consists of two sleeve compartments sewn together accordion-style from wool-blend fabric reminiscent of a handsome wool trench coat. The wool padding cushions the devices and holds them in place while adding beautiful texture and a pop of color. A custom-fitted Apple pencil pocket inside the front compartment keeps the stylus safe and easily accessible, and a rear, open-topped pocket stows a few papers or accessories.
Impact-absorbing foam surrounds the Double-Take Sleeve on the front, back, top, and bottom. Reinforced side seams and corners blunt force from every angle. Nearly-indestructible ballistic nylon, with water-resistant acrylic backing, envelopes the sleeve's exterior, and a full-grain leather base creates a solid grip and adds further protection.
While the Double-Take stows an iPad and a MacBook with or without a Smart Case (or similarly thin cover), it functions equally well when carrying just one device plus necessities: the extra compartment can hold files, a notebook, or digital accessories. A metal G-hook fastens the sleeve's padded, lined flap to a choice of nylon loops arranged like a ladder, so gear inside stays secure regardless of volume.
Features at a glance:

High-quality materials — 1050 denier ballistic nylon, impact-resistant foam, wool-blend padded lining, full-grain leather, reinforced seams, and a padded flap provide solid iPad and MacBook protection.
Organization — Accordion-style wool compartments ease access to the devices, a rear pocket holds small accessories, and a custom Apple Pencil pocket keeps the stylus handy.
Flexibility — Adjustable G-hook fastener keeps variable sized contents secure. Two size choices fit up to 13- or 16-inch MacBooks. Optional D-rings and shoulder strap allow for use within another bag or as a stand-alone, ultra-minimal, shoulder bag.
Refined design — Classic black ballistic nylon and leather, a textured wool-blend interior in complementary colors, and clean lines create an elegant aesthetic.
The new Double-Take Sleeve joins WaterField Designs' collection of MacBook and iPad Sleeves, including the SleeveCase, Dash Sleeve, Vero Leather Sleeve, Outback Solo, Outback Duo, Suede Jacket Sleeve, iPad Air Caddy, and more. All WaterField bags and cases are handmade to exacting standards in the company's San Francisco workshop.
Pricing & Availability
Double-Take Sleeve™
Price: 13-inch—$129. 16-inch—$139.
Colors and Materials: Black ballistic nylon, black full-grain leather, wool-blend textile in charcoal, indigo, or Inverness plaid. Metal G-hook fastener.
Options: D-rings only: +$5; D-rings + removable 1-inch Shoulder Strap: +$13; D-rings + removable Supreme Suspension Strap: +$39.
What fits: 13-inch size—two padded compartments for up to two 13-inch MacBook Pros; 16-inch size — two padded compartments for up to two 16-inch MacBook Pros.
Pre-order now. First production run ships April 29, 2021.
Additional WaterField Designs bags with dual, padded device compartments found here.
About WaterField Designs
WaterField Designs is an innovative San Francisco designer and manufacturer of bags and cases for tech-savvy consumers who want to stylishly and responsibly transport their technology. WaterField manufactures custom-fitted, high-quality cases and bags for a full-range of laptop computers, smartphones, tablets, gaming devices, and other digital gear. All products are manufactured to exacting standards entirely in San Francisco. More information is available on the company website at "Our Story."