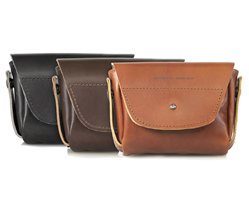 The full-grain leather Wag Hip Pack helps dogs' 'humans' keep their furry friends trained, entertained, and tidied while out on walks or at the dog park.
SAN FRANCISCO (PRWEB) November 20, 2020
With pandemic pup adoptions surging, WaterField Designs, a San Francisco designer and manufacturer of laptop sleeves, bags, and cases for digital gear, forays into the pet market with its full-grain leather Wag Hip Pack dog walking bag. Clever features like a strong magnetic clip-on attachment system, a discreet poop-bag dispenser, a lined treat compartment, and snappable straps to fasten a leash and fetch toy, render the full-grain leather dog bag as convenient as it is handsome.
Wag Hip Pack VIDEO
"When we adopted Buko, our new puppy, I searched for a dog walking bag that could attach quickly and look good with anything from formal pants to running shorts — but I couldn't find any," said Amyel Oliveros, WaterField's design whiz. "I solved the problem by designing a 3-in-1 bag for treats, poop bags, and toys out of beautiful WaterField leather. It was perfect for training our new buddy and has since become an everyday bag for walks or trips to the park. I can't wait to share it with our customers."
Two strong magnets easily secure a leather strap onto any type of clothing, whether that be pajama bottoms for a quick 5:00 am trip to the backyard, or a business suit when an "I-can't-wait pooch" must head to the park immediately after work. The full-grain leather waist pack helps dogs' "humans" keep their furry friends trained, entertained, and tidied while out on walks or at the dog park.
Features:

Strong N45 magnets at the end of a leather strap and on the pack meet to clip the bag firmly in place so the pack quickly attaches to any type of clothing without requiring belt loops or a belt.
Ballistic nylon lining the treat compartment withstands wear and tear and spot cleans easily.
An innovative poop-bag dispenser hides discreetly behind a supple, full-grain, vegetable-tanned, leather flap.
A magnet-secured main compartment prevents dogs from accessing treats while allowing one-handed access for owners.
One exterior leather loop snaps into place to hold a leash, keeping it relatively clean and freeing up owners' hands for toys, treats, and clean up. Locating the leash is quick and easy when stored on the bag between walks.
A second exterior leather tab snaps shut to hold a fetch toy and/or keys.
The compact, nimble design stays comfortable, even on all-day outings.
The Wag Hip Pack inaugurates the WaterField canine collection and will make wearers the envy of the local dog park. Additional dog accessories announced in the new year will blend the clever functionality and upscale quality WaterField is known for.
Availability & Pricing
Wag Hip Pack
Price: $99.
Colors and materials: premium, full-grain, vegetable-tanned leather—black, dark brown, or cognac. Ballistic nylon interior lining. Strong N45 and N35 magnets. Leather accessory straps with metal snaps.
Dimensions and weight: 4.25 x 5 ~ 6 x 1.5 inches; 6.4 oz.
Pre-order now. Shipping begins by December 1, 2020.
About WaterField Designs
WaterField Designs is an innovative San Francisco designer and manufacturer of bags and cases for tech-savvy consumers who want to stylishly and responsibly transport their technology. WaterField manufactures custom-fitted, high-quality cases and bags for a full-range of laptop computers, smartphones, tablets, gaming devices, and other digital gear. All products are manufactured to exacting standards entirely in San Francisco. More information at "Our Story."
Press Contact:
Heidi Marzke
(415) 552-8572
heidi@sfbags.com
WaterField Designs and Wag Hip Pack are trademarks of WaterField Designs. Other company and product names may be trademarks of their respective owners. Copyright ©2020. All Rights Reserved.