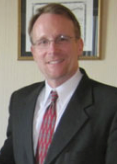 Albert Salvi of Salvi & Maher, LLC has earned a 2016 Client Distinction Award from Martindale-Hubbell.
Waukegan, IL (PRWEB) October 17, 2016
The law firm of Salvi & Maher, LLC is pleased to announce that Partner Albert Salvi has received a 2016 Client Distinction Award from Martindale-Hubbell. The Client Distinction Award is a national acknowledgement of Salvi's professional accomplishments and outstanding skills. Less than one percent of attorneys listed on Martindale-Hubbell receive this recognition. Salvi was first awarded a Client Distinction Award in 2014. He was recognized based on his professional excellence in the following areas: quality of service, overall value, responsiveness, and communication ability.
Lake County Personal Injury Attorney Albert Salvi obtained his B.A. from the University of Notre Dame, and obtained his J.D. from the University of Illinois College of Law. He focuses his legal practice in personal injury including cases related to car accidents, truck accidents, motorcycle accidents, medical malpractice, workers' compensation, slip and fall accidents, dog bites, and wrongful death.
This year, Salvi was named a "Top 100 Lawyer" by the American Society of Legal Advocates, and received a "10 Best Award" from the American Institute of Legal Counsel. He has also earned a spot among the "Top One Percent" of attorneys from the National Association of Distinguished Counsel from 2015-2016. In 2014, the Trial Lawyers Board of Regents presented Salvi with the Litigator Award. Additionally, AVVO named Salvi a "Top Rated Personal Injury Attorney" based on exceptional client reviews and peer recommendations.
Salvi is a member of the Illinois State Bar Association, the Lake County Bar Association, the Illinois Trial Lawyers Association, and the American Society of Legal Advocates. He was elected to the Illinois House of Representatives in 1992 and he was re-elected to a second term in the Illinois General Assembly representing the northwestern Chicago suburbs. Salvi is also a former candidate for the U.S. Senate and Illinois Secretary of State.
About Salvi & Maher, LLC:
The veteran Lake County attorneys at Salvi & Maher, LLC have over 90 years of combined legal experience. The firm is dedicated to helping personal injury victims and their families obtain results and justice.
Salvi & Maher, LLC has offices located throughout Illinois including the cities of Waukegan, Wheaton, Richmond, and Chicago. For more information or to speak with an experienced Waukegan personal injury attorney call 847-662-3303 or visit http://www.salvi-law.com/.