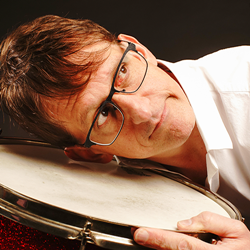 Waukesha Conservatory of Music expanding partnership with music educators with the addition of persuasion and drum set specialist Dave Schoepke.
HARTLAND, Wisc. (PRWEB) December 22, 2020
The Waukesha County Conservatory of Music would like to announce the addition of Dave Schoepke to the WCCM education staff. Dave will be joining the already impressive list of music professionals servicing Waukesha Conservatory music community. The Waukesha County Conservatory of Music is a nationally recognized organization of Independent Music Educators offering private lessons for individuals of all ages. Check out Dave's career and bio here.
Schoepke, an accomplished musician of thirty-five years, has performed all over the world with some of the music industry's very best. Dave brings a new level of percussion expertise to the conservatory with a catalogue that includes Martin Barre of Jethro Tull fame, TWEED featuring Gervis Myles, and national recording artist Willy Porter just name a few of his more recent collaborations. Dave's latest independent projects include Drums on Low and Tessellated Resonance both critically acclaimed from some of the top music organizations all over the world. His work has been part of a featured cover article with Recording Magazine and reviews by Modern Drummer.
The Waukesha County Conservatory of Music is expanding their staff of amazing musicians with the addition of one of the music industry's most talented drummers in Dave Schoepke. Dave could not be more excited to join the impressive staff of accomplished musicians that make up the staff at the conservatory. Both Dave and the conservatory look forward to working together to help aspiring musicians in the Greater Milwaukee area reach their musical goals.