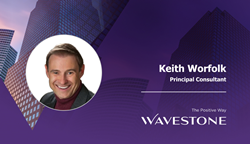 "Driven by their peer-to-peer advisory model, Wavestone US is able to connect with IT leaders in every industry and help them navigate the post-pandemic business landscape." - Keith Worfolk, Principal Consultant, Wavestone US
RADNOR, Pa. (PRWEB) March 29, 2021
Wavestone US, an IT and business consulting firm, is excited to announce the appointment of Keith Worfolk as Principal Consultant. As a transformative CTO, CIO, and VP, Worfolk has more than 25 years of experience in a variety of sectors—including healthcare, financial services, products, software development, cloud and information services, manufacturing, and telecom. As Principal Consultant, Worfolk will focus on delivering forward-looking IT solutions, products, information systems, cloud platforms (PaaS), software (SaaS), big data (DaaS) pipelines, BI/analytics, and reliable technical architectures for Wavestone's enterprise clients.
"I could not be prouder to join the team at Wavestone US as they continue to transform companies nationwide through transformational digital strategies that result in real business change and growth," says Worfolk. "Driven by their peer-to-peer advisory model, Wavestone US is able to connect with IT leaders in every industry and help them navigate the post-pandemic business landscape. It's practical, it's effective, and it's exactly the kind of IT consulting I believe in."
Before joining Wavestone US, Worfolk was Chief Technology Officer and VP of Engineering at CatylystOne/PeopleCare Health Services, where he architected and grew a commercialized multi-tenant product for caregivers in the healthcare industry. Prior to CatylystOne, Worfolk was Chief Technology Officer and Senior VP of Product Engineering at HomeSphere, where he transformed the company's enterprise IT, advanced software product (PaaS/SaaS), recruited and mentored full-stack PaaS/SaaS/DaaS product development delivery and support teams, and led the release of My HomeSphere—which won "Top Technology Product for 2018" under his over-sight. He founded technology consultancy firm AvantLogix in 2011, where he oversaw large-scale projects like the enterprise architecture and systems development for a $3.3B, 2.1M-member healthcare corporation. Worfolk has also held a variety of full-time and contract VP, CTO, and other IT leadership roles at companies like TruNode Tech (CTO), Zephyr Boating (CTO, VP of Engineering, and Interim CEO), 9Health (CTO and CISO), DTI Management (CTO), and Hitachi Consulting (Senior Director, Solutions Architecture and Engineering).
Having gained a reputation as a strategic problem solver, an excellent relationship builder, a trusted advisor, and an industry thought leader with strong business acumen and outstanding communications skills, Worfolk has also established himself as an author and public speaker. He is passionate about fostering a culture of trust, collaboration, and achievement; and prioritizes inspiring others cross-functionally for shared growth and success.
"Throughout his career, Keith has used his extensive IT leadership experience to take big businesses to new heights," says Jeff Vail, Wavestone US CEO. "I am confident that his breadth of industry experience and firsthand knowledge of developing and executing enterprise IT strategy will make him a great addition to our team of IT experts here at Wavestone."
As its chief differentiator, Wavestone US prides itself on hiring seasoned IT business leaders with a strong track record of producing positive, impactful results. Averaging 25 years of experience each as former C-level executives, Wavestone's team of experts are more than equipped to offer the bold, new thinking needed to face new and evolving challenges in the post-pandemic environment. This peer-to-peer approach has been effective in the transformations of more than 200 Fortune 1000 companies across a wide range of industries.
Wavestone US advisory services include IT strategy and planning, cost optimization, delivery effectiveness, cybersecurity and digital trust, digital business enablement, and talent solutions.
Keep in touch and join in the conversation on:
Facebook: @WavestoneGlobal
Twitter: @WavestoneUS
LinkedIn: @Wavestone
About Wavestone
Wavestone US is the North American arm of global management and IT consulting firm Wavestone. Over the past 15 years, we have supported the transformations of more than 200 Fortune 1000 companies across a wide range of industries. Our model is unique in that it leverages a strong peer-to-peer culture, offering a practitioner's perspective on IT strategy, cost optimization, operational improvements, cybersecurity, and business management. It is our mission to help business and IT leaders successfully deliver their most critical transformations and achieve positive outcomes. We drive change for growth, lower cost and risk, and create the trust that gives people the desire to act. We believe in helping our clients to innovate and grow on their own so that they can be successful long after we depart. That is what we call The Positive Way.