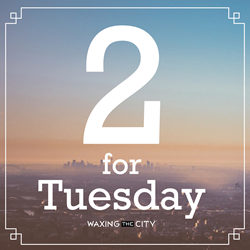 Bring a friend and enjoy Waxing the City Tempe's 2 for Tuesday special.
Tempe, AZ (PRWEB) September 09, 2015
Waxing the City Tempe customers are encouraged to bring a friend to their session on Tuesdays, and both guests will receive 50% off waxing services. If used on combination services, the discount will be applied to the highest priced service only.
Guests are not required to be new customers of the Tempe waxing spa, so anyone is able to save money and gain smooth skin with this promotion. To redeem the offer, customers must schedule a Tuesday appointment either online or by phone at (480) 929-9111.
This Tempe waxing salon features a full menu of head-to-toe waxing services. Waxing the City offers men and women brazilian and bikini services, discreetly removing unwanted hair from sensitive areas. Two different types of high-quality wax are used, and skilled estheticians use their years of experience and expertise to remove hair for best results.
Waxing the City Tempe also offers eyebrow waxing for a polished, professional look.
Body waxing services target any area that may contain unsightly, unwanted hair. Women can schedule an appointment for waxing of the abdomen, arms, back, legs, buttocks, underarms or bikini zone. Men are offered each of these services in addition to high quality chest waxing. Facial waxing services include brow shaping and waxing of the lips, nose, chin, neck or ears. For customers looking to maximize their waxing experience, Waxing the City offers combination services including lip and brow waxing, lash and brow tinting, and a full leg and bikini wax.
About Waxing the City
Waxing the City is a waxing studio imagined by Summer Hartshorn Vasilas and created by Marilyn Hartshorn, Robin Schoh and Alex Jimenez. First founded in Denver in 2003, Waxing the City now has over 2,500 franchises around the world. The spas are staffed by licensed estheticians, and both men and women are invited to schedule an appointment for waxing services. Waxing the City's Valley Plaza Shopping Center location offers the best waxing service in Tempe.