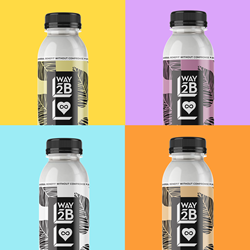 Way2B intends to transform the global health and wellness marketplace... with healthy, functional consumer products.
MINNEAPOLIS (PRWEB) October 14, 2019
Way2B LLC, a healthy lifestyle consumer products company, today introduced the first of its new line of functional plant-based water beverages. Way2B Way Better Water™ Drink is now available in individual-serving bottles at Lunds & Byerlys and Cub Foods stores throughout the Twin Cities metro, and at Amazon.com through their Launch Pad program.
Way Better Water Drink is powered by premium plant sterols, through a proprietary, industry-first water-soluble solution, which is tasteless and odorless. Plant sterols are clinically proven to provide numerous health benefits, such as lowering cholesterol levels, supporting cardiac health, prostate health, liver function and collagen maintenance. Plant sterols occur naturally in grains, vegetables, fruits, legumes, nuts and seeds, but it's difficult for people to get the daily, recommended dosage. Each bottle of Way Better Water Drink contains one of the two recommended doses of sterol, providing a convenient way for consumers to increase their sterol consumption.
The health benefits of plant sterols are well documented in scientific literature. The Council for Responsible Nutrition (CRN) estimates if everyone in the U.S. consumed 2 grams of plant sterols per day, there would be:

An 11% reduction in the risk of coronary heart disease;
A $3.3 billion net healthcare savings per year; and
A reduction of 300,000 coronary heart disease events per year.
"We're creating a new, universal standard and a better Way2B for people everywhere," said Simona Huskova, Way2B's cofounder and CEO. "Way2B intends to transform the global health and wellness marketplace, making a difference with healthy, functional consumer products."
Huskova, a mother who is passionate about health and wellness, leads the Way2B team. The team has more than 150 years of collective experience in the consumer packaged goods (CPG) industry, including the launch of more than 100 brands for companies such as Coca-Cola, Hershey, and Del Monte, and other smaller
startups.
According to Grand View Research, the global functional drinks market is expected to reach $93.7 billion in 2019, with an annual growth rate of 6.1%. BeverageDaily.com reports 65% of Americans are looking for functional benefits in their food and drink choices, and want immediate results.
Way2B Way Better Water Drink comes in four all-natural flavors: lemon, orange, berry, and plain. The product is available in single-serve, 12 fluid-ounce bottles in the grocery store refrigerated section for $3.49 - $3.99 and at Amazon.com in 6-packs for $22.79.
About Way2B, LLC:
Minnesota-based Way2B is a healthy lifestyle consumer products company founded in science and devoted to providing today's health-conscious consumer a better way to be healthy, happy, and productive. The company's initial innovative products enable consumers to proactively and conveniently manage their heart and microbiome health. Way2B's first product to market is Way Better Water™ Drink, a functional water based drink powered by the company's proprietary water-soluble plant sterols, an ingredient scientifically proven to reduce harmful LDL cholesterol and provide other important health benefits. For more information, please visit http://www.way2byou.com.
Follow us on social media at: http://www.Facebook.com/Way2Byou, http://www.Instagram.com/Way2Byou, http://www.Twitter.com/Way2Byou.
Registered trademarks of Way2B LLC include, but are not limited to, Way2B Better Water, Way2B, Way2Byou, Way2go, Way2live, Way2XL.