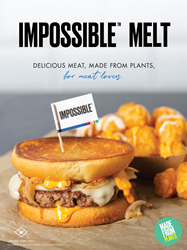 The feedback was overwhelming from guests requesting the Impossible Melt, stating it is the best of its kind.-- Patrick Conlin, President of Wayback Burgers
CHESHIRE, Conn. (PRWEB) February 09, 2021
Wayback Burgers, one of the nation's fastest-growing burger franchises, is celebrating serving up 30 years of deliciousness! As part of the celebration, America's Favorite Hometown Burger Joint is excited to announce the return of a popular menu item just in time for Lent.
Back by popular demand, the Impossible™ Melt will be available for a limited time beginning on February 17 – the start of the Lenten season – through April 30. For the nearly 25 percent of Americans who abstain from meat during Lent, this burger offers a great alternative.
This delicious melt starts with an Impossible™ patty made from plants and features spicy garlic aioli sauce, topped with swiss cheese and sautéed onions, all sandwiched between Wayback Burgers' signature toasted, inverted, buttered buns. It's perfect for people who crave meat!
Although the Melt will only be around until April 30, Impossible™ Burgers will become a permanent menu item at Wayback Burgers locations in the Craft Your Own section. Guests will be able to build whatever kind of Impossible™ sandwich they want!
"Delicious meat made from plants, for meat lovers," is how Impossible Foods describes its popular burger. By bringing this item back and giving Impossible burgers a permanent place on the menu board, Wayback Burgers is answering the call of guests who want mouth-watering options to beef all year round.
"The feedback was overwhelming from guests requesting the Impossible Melt, stating it is the best of its kind," said Wayback Burgers President Patrick Conlin. "We are also excited about keeping Impossible patties on our menu board permanently in the Craft Your Own section. It perfectly aligns with our commitment to serving high-quality burgers. Of course, we will always have our traditional cooked-to-order beef burgers that people also love."
With the demand for plant-based meat options growing — a nearly 80 percent increase in plant-based burgers consumed at restaurants, according to the NPD Group — Wayback first introduced the Impossible Burger option to guests in 2020. Customers sampled it and came back for more, citing the combination of a tasty burger made from plants with Wayback Burgers' unique twist of adding spicy garlic aioli sauce and two toasted, inverted buttered buns.
Wayback Burgers is committed to the highest quality levels, using the freshest ingredients, and unmatched guest service.
Also available for a limited time at Wayback Burgers is the Chocolate Cake Shake, which is as decadent as it sounds. The shake features chocolate cake with cream filling mixed in, and a drizzle of chocolate syrup, topped with whipped cream and more cake! It is available from February 17 –March 31.
For more information on Wayback Burgers and all 2021 promotions/limited time offers, please visit their website (https://waybackburgers.com/) and social media profiles — Facebook, Twitter and Instagram.
For more information on the Wayback Burgers franchise opportunity, please visit https://waybackburgers.com/franchising/.
About Wayback Burgers
Founded in 1991 in Newark, Delaware, Wayback Burgers is a Connecticut-based fast-casual franchise with a reputation for cooked-to-order burgers and thick, hand-dipped milkshakes, served in an environment that hearkens back to a simpler place and time — when guest service meant something and everyone felt the warmth of the community.
Wayback Burgers currently operates in 31 states with over 166 locations nationally and internationally in Brunei, Sudan, Morocco, Saudi Arabia, Malaysia, Pakistan, The Netherlands, and Manitoba, Canada. Through its executed international franchise agreements, Wayback Burgers plans to open in 38 provinces/countries, including the Middle East, Northern Africa, South Africa, Bangladesh, Ireland, Germany, and, in Canada, Alberta, Ontario, Saskatchewan and British Columbia. Currently, there is an LOI for Japan.
For more information about Wayback Burgers, please go to https://waybackburgers.com/.
For franchising information about Wayback Burgers, please go to https://waybackburgers.com/franchising.