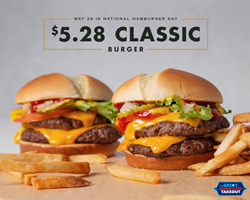 We are so grateful for The Great American Takeout movement and the visibility and support it has brought to the restaurant industry during this pandemic. -Patrick Conlin, President of Wayback Burgers
CHESHIRE, Conn. (PRWEB) May 26, 2020
Mark your calendars for May 28, as Wayback Burgers, America's Favorite Hometown Burger Joint and one of the nation's fastest-growing burger franchises, has two can't-miss deals to celebrate National Hamburger Day.
To celebrate on 5.28, Wayback Burgers will dial back the price of a Classic Burger to $5.28.
A classic never goes out of style. Two beef patties cooked-to-order, American cheese, lettuce, tomato, pickles, onions, and of course, ketchup and mustard. The holiday price burger deal is available all day long on the app, in-restaurant, or at curbside. This offer replaces any previous offers.
Wayback Burgers is also thrilled to join forces with The Great American Takeout for a nationwide Burger Bash and a chance to win free burgers for a year!
The Great American Takeout is offering an entire year of free burgers to one lucky burger fan. Americans who order a Wayback Burgers takeout burger on National Hamburger Day can enter to win a year of free burgers (in the form of a $2,600 gift card).
To enter for a chance to win:
1. Order a burger through takeout or delivery on May 28th.
2. Post a picture of your burger on Instagram or Twitter, tagging #TheGreatAmericanTakeout and #sweepstakes.
3. Follow @thegreatamericantakeout on Instagram or @TheGATakeout on Twitter.
Full sweepstakes terms and conditions are available here.
For a little National Hamburger Day entertainment, ROW8—a subscription-free movie streaming service that gives movie lovers access to the newest Hollywood films—will offer free streams of Harold & Kumar Go to White Castle to the first 500 people to use the promo code ROW8MOVIE+BURGER on ROW8.com. All other visitors to ROW8 can celebrate National Hamburger Day with $2 OFF their first new release.
"We are so grateful for The Great American Takeout movement and the visibility and support it has brought to the restaurant industry during this pandemic. Wayback Burgers is proud to join forces with them as a sponsor of The Great American Takeout Burger Bash in honor of our favorite holiday – National Hamburger Day!" said Patrick Conlin, President of Wayback Burgers.
The Great American Takeout is a grassroots effort to support the struggling restaurant industry—from big chains, to small independents—during the COVID-19 crisis. The campaign has generated widespread buzz while raising $310,000 for charitable organizations supporting restaurant workers.
For more information on Wayback Burgers and all 2020 promotions/limited time offers, please visit their website (https://waybackburgers.com/) and social media profiles — Facebook, Twitter and Instagram.
For more information about Wayback Burgers, please go to https://waybackburgers.com/
For franchising information about Wayback Burgers, please go to https://waybackburgers.com/franchising/
About Wayback Burgers
Founded in 1991 in Newark, Delaware, Wayback Burgers is a Connecticut-based fast-casual franchise with a reputation for cooked to order burgers and thick, hand-dipped milkshakes, served in an environment that hearkens back to a simpler place and time — when customer service meant something and everyone felt the warmth of the community.
Wayback Burgers currently operates in over 30 states with over 166 locations nationally and internationally in Brunei, Sudan, Morocco, Saudi Arabia, Malaysia, Canada and the Netherlands. Through its executed master franchise agreements, Wayback Burgers plans to open in 38 provinces/countries in the Middle East, Northern Africa, South Africa, Argentina, Pakistan, Brunei, Bangladesh, Ireland; Alberta, Ontario, Manitoba and Saskatchewan, Canada; and the Netherlands, with a pending letter of intent sent out to Germany.