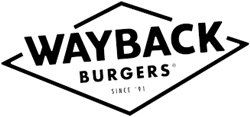 Our restaurants are slowly opening dining rooms in accordance with local guidelines and using enhanced sanitizing procedures, and we hope to soon see our customers enjoying their favorite Wayback Burgers menu items with some of these special deals.-Pat Conlin, President Wayback Burgers
CHESHIRE, Conn. (PRWEB) May 15, 2020
Wayback Burgers, America's Favorite Hometown Burger Joint and one of the nation's fastest-growing burger franchises, is getting ready for summer by offering two promotions in late May.
On Memorial Day, Monday, May 25, customers will receive half off shakes when they order through the Wayback app or in restaurant, also available at curbside pickup. Wayback Burgers offers hand-dipped milkshakes in a variety of flavors including: Vanilla, Chocolate, Strawberry, Black & White, Coffee, Café Mocha, Oreo Mud Pie, Oreo Mint, Chocolate Banana, Strawberry Banana, and Cookies 'n Cream.
Later that week, on May 28, Wayback Burgers is celebrating National Hamburger Day with BOGO Classic Burgers. A classic never goes out of style. Two beef patties cooked-to-order, American cheese, lettuce, tomato, pickles, onions, and of course, ketchup and mustard. Again, this offer is also available on the app, in-restaurant, and curbside.
Wayback Burgers independently owned franchises across America are looking forward to welcoming their guests back.
"We are very excited to offer these promotions for the unofficial kick-off to the summer season," said Wayback Burgers President Patrick Conlin. "Our restaurants are slowly opening dining rooms in accordance with local guidelines and using enhanced sanitizing procedures, and we hope to soon see our customers enjoying their favorite Wayback Burgers menu items with some of these special deals."
For more information on Wayback Burgers and all 2020 promotions/limited time offers, please visit their website (https://waybackburgers.com/) and social media profiles — Facebook, Twitter and Instagram.
For more information about Wayback Burgers, please go to https://waybackburgers.com/. For franchising information about Wayback Burgers, please go to https://waybackburgers.com/franchising/.
About Wayback Burgers
Founded in 1991 in Newark, Delaware, Wayback Burgers is a Connecticut-based fast-casual franchise with a reputation for cooked to order burgers and thick, hand-dipped milkshakes, served in an environment that hearkens back to a simpler place and time — when customer service meant something and everyone felt the warmth of the community.
Wayback Burgers currently operates in over 30 states with over 166 locations nationally and internationally in Brunei, Sudan, Morocco, Saudi Arabia, Malaysia, Canada and the Netherlands. Through its executed master franchise agreements, Wayback Burgers plans to open in 38 provinces/countries in the Middle East, Northern Africa, South Africa, Argentina, Pakistan, Brunei, Bangladesh, Ireland; Alberta, Ontario, Manitoba and Saskatchewan, Canada; and the Netherlands, with a pending letter of intent sent out to Germany.