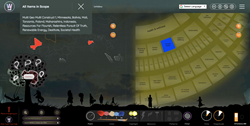 The greatest barrier to human potential is our reliance on rudimentary inherited languages and the primitive screen interfaces we use to interact with computers and the internet.
MINNEAPOLIS (PRWEB) April 11, 2019
A new visual language may be coming soon to every computer screen on earth. So says a Minneapolis firm that just earned a Fast Company 2019 award recognizing their breakthrough invention of dynamic semiotics – essentially a new universal digital language that can handle complexity.
Wayfinder has invented a revolutionary new interface that takes on the challenge of systemically understanding and managing a complex world better than anything in use today. Words are too static, linear, skewed and localized to address the opportunity to finally see all moving parts of a subject with rich context and meaning.
WAYFINDER today announced that it has just won finalist honors in Fast Company's 2019 World Changing Ideas competition that recognizes the most provocative big ideas with the feasibility and potential to improve life on earth.
Its patented technology, called Dynamic Systemic Semiotics, overcomes the barriers of modern languages and interfaces. Its solution is to deliver a creative, entertaining and rewarding way for everyone to access the best knowledge and resources over the internet that align with any user's specific objectives.
WAYFINDER'S Founder, Alan Yelsey, an educational psychologist, says, "The greatest barrier to the full realization of human potential is our reliance on rudimentary inherited languages and by extension the primitive screen interfaces we use to interact with computers and the internet."
With five granted patents and more pending, WAYFINDER has introduced a new paradigm that soon will become the way people all over the world communicate, learn and act for common good at the highest levels.
Yelsey says modern language and internet media are incapable of representing complexity, exchanges, interactions, relationships, proofs, context, alternative views and the inherent inadequacy of current knowledge - ever changing across time, space, state, validation, perspective and levels of detail.
WAYFINDER believes that knowledge should be accumulated and organized into groupings of easy to remember multi-layered maps that can display meaning when the cells of the maps are painted with colors, patterns and sounds that instantly and creatively signify the objectives of the user.
Dynamic Semiotics works like a paint by numbers universe using cells to designate variables with all things in their unique place. The multi-player gaming like interface enables users to manually or autonomically generate meaning by how they incorporate color, sound and pattern into the platform.
For example, if a user wants to best understand a disease, the disease mapsets are designed to focus on the specific needs of the user, and to present an instantly recognizable display of best knowledge about causes, treatments and prognosis by lighting up the map's disease variables with colors that translate millions of words into simple up to date and proven understanding of complex challenges.
Even doctors and nurses who find it overwhelming to keep up with changing knowledge can input and consult with the accumulative color and pattern coded mapsets of their practice for best knowledge.
The first applications of WAYFINDER will most likely be for large scale project/enterprise management, for AI, for health decision-making, for consumers with high priority needs and for internet marketplaces.
People think, believe, gut react and communicate within and without according to their language and representations. If the language itself is flawed, incapable of accurately addressing the systemic context of our changing world, that minimizes their potential to thrive.
A semiotic systemic multimedia language may be capable of surpassing all current forms of communication when it comes to:
1) Considering Anything Complex
2) Extracting and Communicating Verifiable Knowledge with Alternate Perspectives
3) Synthesizing, Teaching and Learning Systemic Understanding
4) Operating ANY Form of Human System, Enterprise or Commercial Platform
5) Satisfying Human Objectives & Stimulating Nurturing Communities
6) Interacting with Any Computing Device or Interface
7) Creative Expression
8) Accumulating and Referencing Holistic Knowledge
WAYFINDER has just announced a new global initiative, modeled on the World Wide Web, that is called The Communicating Complexity Project. To bring WAYFINDER to life, they believe a global consortium should guide the development of the universal language of mapsets, and the designation of meaning through color, pattern and sound that make up WAYFINDER.
Go to http://www.WAYFINDER.net
"We are thrilled to bring to the world a better model for universal high value complex communications that will make existing models obsolete," says Alan Yelsey.