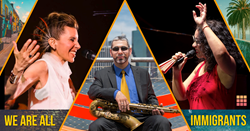 The Trump era triggered my Latin-Americanism and brought me closer to my roots.
NORTHAMPTON, Mass. (PRWEB) February 26, 2021
The lives of immigrants are a dialogue between the memory of what was left behind and the assimilation of new experiences. Perhaps it is their liminality - their sense of simultaneously being ostracized and embraced - that enables these Latin American artists to approach jazz, the most American of art forms, and make it their own.
In response to the newly introduced immigration reform bill, Third Row Live presents a series of concerts which celebrate the contributions of immigrants and mark a new chapter in our national dialogue. Three revered jazz musicians - Claudia Acuña, Magos Herrera, and Felipe Salles - will bring their respective ensembles to the historic Academy of Music Theatre in Northampton, MA.
Due to pandemic restrictions, each artist will perform to an empty house, yet they will look out from the stage and see the faces of fans from around the world on an interactive video wall. The concerts will be co-presented by Third Row's international coalition of theatres, festivals, and radio stations who are working together to innovate and sustain the performing arts during this challenging time.
There is no single immigrant narrative, however each of these artists came to the United States to pursue a more expansive, musical career. As Magos Herrra puts it, "Living in New York protects me from my own ignorance." Each has composed work that examines and reflects upon this uniquely personal journey.
The series begins on March 6th with Chilean vocalist, Claudia Acuña, who arrived in New York at age 20 speaking no English and energized by the dream of appearing in the city's legendary jazz clubs. "I met my angels and my devils here in New York," remembers Claudia. Within a few short years, she was signed to Verve Records and gained recognition as one of the most intriguing and original vocalists on the scene.
On April 2nd, the series continues with Mexican vocalist, Magos Herrera. "I never thought of myself as belonging to a single nationality," says Herrera, "but the Trump era triggered my Latin-Americanism and brought me closer to my roots." Her recent collaboration with Brooklyn Rider, Dreamers, is a dialogue between a Mexican immigrant absorbing the language of Jazz, and an American string quartet assimilating the works of Ibero-American writers and composers.
The series concludes with Brazilian saxophonist and composer, Felipe Salles, presenting his most recent work, The New Immigrant Experience. Performed by his 19-piece Interconnections Ensemble, this powerful multimedia composition is inspired by the lives of Dreamers, whose stories are woven throughout. The day will also feature a conversation between Salles and a panel of immigration rights activists. "You're creating a new identity. It's a process to accept that you are neither and both at the same time," remarks Felipe Salles, "the art becomes the story of your life".
Felipe Salles performance is presented in partnership with Blues to Green and Next Stage Arts and is funded in part by the New England States Touring program of the New England Foundation for the Arts, made possible with funding from the National Endowment for the Arts Regional Touring Program and the six New England state arts agencies.
ABOUT THIRD ROW LIVE: Live performance was one of the first casualties of the pandemic and it may be one of the last areas to recover. Third Row is a global coalition of over 50 presenters working together to sustain the performing arts during this uncertain time while re-imagining a more equitable future for artists, presenters, and audiences alike. Third Row traverses genres and geographies to present digital experiences which might otherwise be inaccessible to a global audience. From social-justice based a capella group Sweet Honey in the Rock, to renowned jazz guitarist Stephane Wrembel, to a day of flamenco broadcast from the foothills of the Spanish mountains; Third Row Live is on a quest to connect audiences and presenters through innovative, interactive digital events.
ABOUT BLUES TO GREEN: Blues to Green uses music to build community, celebrate culture, and catalyze social and environmental change. Programs include the Springfield Jazz & Roots Festival and the Charles Neville Legacy Project. Blues to Green brings musicians of color into public schools and uses music to animate the history and literature of the African diaspora. Our annual Jazz & Roots Festival presents regional, national, and international musical acts and provides a platform for spoken-word, youth arts groups, and environmental and social justice nonprofits.
ABOUT NEXT STAGE ARTS: Founded in 2010, Next Stage serves Southeastern Vermont as a regional cultural hub, arts producer, and instigator of meaningful cultural experiences. As the only multi-discipline, year-round presenter in the region, Next Stage serves an ecosystem composed of community, artists and presenters to expose our region to a vast array of cultural ideas. Located in the landmark 1841 former church on Kimball Hill, Next Stage is a performing arts and community center serving as the new anchor for Putney's re-emerging downtown. Putney, VT (population 2,600) had been hollowed out by Hurricane Irene and two major fires, and Next Stage was conceived as a way to rebuild the community.