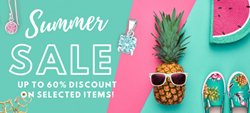 HOUSTON (PRWEB) August 06, 2020
We Silver Jewels, the online jewelry wholesaler, announces the last days of the company's summer sales. Saturday, August 15, 2020, will be the last day of the summer sales for the wholesale jewelry collection. Customers interested in getting wholesale jewelry supplies at much lower prices should hurry to place their orders.
WE Silver Jewels informs customers and all retailers in search of wholesale jewelry suppliers that the summer season sale is nearly over. All items are priced lower, not just the overstock jewelry.
"There's an ocean-themed silver jewelry wholesale collection, which is ideal for this season and is currently priced at lower prices. Let's remember that the summer is not over yet. These items still sell and we offer customers the opportunity to get them without paying much," said Tim Greene, CEO of WE Silver Jewels.
The company's wholesale jewelry collection has been on sale from the beginning of the summer and it's time to wrap things up, announces WE Silver Jewels.
"We like to inform our customers about the end of the wholesale jewelry sales period so that they will get the chance to buy more and pay less. The lower prices, due to the sales, combined with our 40% discount on bulk orders and the free shipping for orders over $499 make a very good deal."
Since its inception, WE Silver Jewels has set its standards high for the best quality and full customer satisfaction.
"This has always included cheap wholesale jewelry prices," underlined Greene, stressing that the combination of quality products at low jewelry wholesale prices has always been a great incentive for customers.
On top of that, there's an ongoing clearance on the company's wholesale jewelry closeout collection. That's for items that won't be reproduced and so, there's limited stock. WE Silver Jewels also offers flash deals. That's low-priced wholesale jewelry supplies, which are renewed every month.
The constant discounts and offers on jewelry supplies coupled with the summer sales give customers the chance to make bulk orders (and thus, profit from further discounts) and gain more, announces the company urging clients to hurry and shop to profit even more. The last day of the summer sale for all wholesale jewelry supplies is in the mid of August.
About We Silver Jewels
We Silver Jewels is an online wholesale silver jewelry supplier, located in Houston, Texas, and distributing all over the world. The factory is located in Thailand and the entire manufacturing process is thoroughly managed and controlled by the company for utter safety. All materials come from conflict-free zones and are of the best quality.
We Silver Jewels has a huge jewelry wholesale collection for both adults and children – Swarovski items, wholesale beads, earrings, pendants, bracelets, and jewelry supplies for all occasions – engagement rings, themed collections, sets, etc.