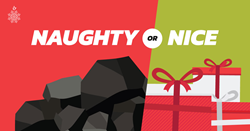 LEHIGH VALLEY, Pa. (PRWEB) November 19, 2018
According to independent research, nearly 50% of broadband households use voice search and artificial intelligence (AI) search capabilities, such as Amazon Alexa and Google Home. It's no secret that, as AI adoption rates are skyrocketing, the impact on today's youth increases, as well.
To help maximize the positive effects of conversational AI, Citro Digital, a digital marketing agency based out of Pennsylvania, launches "Naughty or Nice Quiz" today – a new action and skill for Google and Alexa-enabled devices, respectively.
"Conversational AI has changed the game, and let's face it—it's fun! We have a whole new way to interact, and we are excited to be at the forefront of this technology paving the way," said Hillary Long, Citro Digital's CEO. "Right now, we are in the beginning stages of voice technology, and our goal is to make people more comfortable with the devices and have fun interacting with them in a meaningful way."
TAKE THE QUIZ!
The holiday game prompts children and their parents to reflect on their choices and behaviors throughout the season. The game guides them through a series of questions to determine if they've made Santa's naughty list or nice list. Families can play together to see where they rank on Santa's list! It's a powerful tool for parents to remind their little ones that their behavior has consequences. The impact of this Alexa skill/Google action goes beyond the family setting, too.
To download the skill on an Amazon Alexa, simply go to the Alexa Skills Store website and enable "Naughty or Nice Quiz;" you can also enable it from the Alexa app on mobile. Once enabled, just say, "Alexa, open the Naughty or Nice Quiz" to get started. To enable this action on a Google Assistant device or phone, simply say "Hey Google, open Naughty or Nice Quiz."
IT IS THE SEASON FOR GIVING, AFTER ALL
To coincide with the holiday-themed skill/action, Citro Digital is combining social media and AI to give back to causes in the community. Citro Digital has decided to support non-profits in 2019. To take it one step further, Citro Digital is asking those who play "Naughty or Nice Quiz" to post a video of the fun and tag @Citro_Digital, and one of the four selected non-profits. The non-profit with the most tags will receive the grand prize of a marketing campaign, valued at $5,000.
The charities up for the running right now are:

"As we round out the first year of our start-up digital agency, I would be remiss if I didn't acknowledge the support, dedication, and generosity of my team and partners. My team and I are fortunate to be able to dedicate our careers to using our unique talents to create positive messages through our work, and I'm grateful for our opportunity to pay it forward this holiday season," said Long.
For more information about Citro Digital's "Naughty or Nice Quiz" skill/action, visit our landing page.