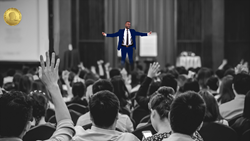 ALEXANDRIA, Va. (PRWEB) March 31, 2020
Like having a financial guru in one's pocket; a new website evens the score to make the working poor wealthy. Created as a "foot in the door" that doesn't require a college degree, the site gives an insider look at the practical ways anyone can become wealthy. Considering nearly 8% of the population makes $100k and above a year, could it be that easy? It appears so. Wealth Teacher says money has come to play.
To close the financial literacy gap worldwide, Quincy Goff, the CEO of Wealth Teacher, said of the launch, "Wealth is a skill set. You can learn the basics within a few months. I've studied the wealthy, and I want to teach you how to pick up the clues that their success has left you. We'll learn how to make a financial plan so you can set aside money to invest regardless of how much you earn. The small steps I teach you are doable. It's all about consistency. That's everything when it comes to building wealth."
With a "the more you learn, the more you earn" approach, Wealth Teacher is like taking a Finance 101 class. Aside from investing advice, it's a go-to resource for things like securing a good credit score, the need for financial planning, and the merits of a living will. It gives financial freedom tips, ways to build passive income, tips on how to make money online, and a personal finance blog. It also offers an encyclopedia of financial definitions that give readers information on demand.
"Unfortunately, our government and the public school system has left the responsibility of teaching how to manage money up to family and friends. As a result, Americans are in bad shape financially, as about 78% are living from paycheck to paycheck. Think about it, the majority of individuals acquire knowledge about budgeting, personal finance management, and investing by the poor and middle class. To go to the next level, everyone has to associate themselves with highly skilled and proven people who will positively determine how far and how fast they will go in life financially," added Goff.
For more information, visit https://wealthteacher.info.
About Wealth Teacher:
Wealth Teacher is a website dedicated to teaching visitors how to obtain freedom through a high financial IQ, investing, and financial planning.