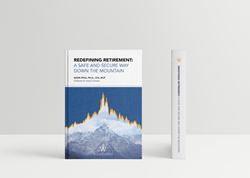 "With this book and supplemental guide, we're providing financial professionals with the tools they need to host productive and educational meetings with their clients," Wade Dokken, President, WealthVest
BOZEMAN, Mont. (PRWEB) April 06, 2021
WealthVest, a financial services distribution firm, and Wade Pfau, PH.D., CFA, RICP are pleased to announce the release of a special edition reference book titled, "Redefining Retirement: A Safe and Secure Way Down the Mountain". The book is a culmination of research done by Pfau on lifetime income and the role of annuities, in partnership with WealthVest.
The 477 page book features insights, research, and institutional knowledge from Pfau that financial professionals can use to help retirees and pre-retirees make informed retirement decisions. The special edition also features a user-friendly guide from WealthVest that distill the major themes of the book into consumer-approved sales materials that financial professional can use with their clients. In particular, the guide contains IRS tax codes regarding annuities and life insurance, actuarial tables, white papers, individual chapter guides, and more.
"With this book and supplemental guide, we're providing financial professionals with the tools they need to host productive and educational meetings with their clients," said Wade Dokken, president of WealthVest. "In partnering with Doctor Pfau on this project, we're working to help financial professionals become the preferred retirement income planning professional in their community."
Included in the book's guide are multiple whitepapers highlighting many of the pertinent issues facing clients in today's retirement landscape, which many financial professionals will find highly beneficial to their practice, Dokken said. Additionally, the chapter guides at the front of the book breakdown many of the key points of the book into applicable strategies for financial professionals. Financial professionals can also use the numerous callouts, sales tools, tables, and charts found throughout the book and guide as a compass for client conversations, he said.
"We want you to enjoy the journey of building a safety-first retirement plan with your clients," Dokken said. "We hope you'll use this book and guide as a reference to continue to build your practice as an income planning professional."
All of the WealthVest sales tools and whitepapers referenced throughout this book as well as the opportunity to gain access to a copy of the book, can be found at wealthvest.com/redefiningretirement
Wade D. Pfau, PhD, CFA, RICP is a professor of retirement income and the director of the Retirement Income Certified Professional® (RICP®) designation program at the American College of Financial Services in King of Prussia, Pennsylvania. He is a codirector of the college's New York Life Center for Retirement Income. He also serves as a principal and the director of retirement research for McLean Asset Management and chief planning scientist at inStream Solutions.
He hosts the Retirement Researcher website as an educational resource for individuals and financial advisors on topics related to retirement income planning. He holds a doctorate in economics from Princeton University and publishes frequently in a wide variety of academic and practitioner research journals. His research has been discussed in outlets including the print editions of the Economist, New York Times, Wall Street Journal, Time, Kiplinger's, and Money magazine.
Wade is a past selectee for the InvestmentNews Power 20 in 2013 and 40 Under 40 in 2014, the Investment Advisor 35 list for 2015 and 25 list for 2014, and Financial Planning magazine's Influencer Awards. In 2016, he was chosen as one of the Icons and Innovators by InvestmentNews. He is a two-time winner of the Journal of Financial Planning Montgomery-Warschauer Editor's Award, a two-time winner of the Academic Thought Leadership Award from the Retirement Income Industry Association, and a Best Paper Award winner in the Retirement category from the Academy of Financial Services. Wade served for four years as a coeditor of the Journal of Personal Finance.
Wade is a contributor to Forbes, an Expert Panelist for the Wall Street Journal, and a columnist for Advisor Perspectives. He has spoken at the national conferences of organizations such as the CFA Institute, Financial Planning Association, National Association of Personal Financial Advisors, and Academy of Financial Services.
He is also author of two other books, Reverse Mortgages: How to Use Reverse Mortgages to Secure Your Retirement and How Much Can I Spend in Retirement: A Guide to Investment-Based Retirement Income Strategies.
About WealthVest
WealthVest is a financial services firm specializing in the distribution of low risk, high quality products to support Americans' retirement savings and income needs. WealthVest designs, markets, and distributes these essential products throughout the nation and is squarely focused on developing products with the highest consumer value.
WealthVest was founded in 2009 by former CEO of American Skandia, Wade Dokken, and former CEO of Hartford Life Limited, Europe, Lincoln Collins. From the beginning, the company has provided financial professionals with exceptional field and phone support, effective sales training materials, thorough coaching, and the highest quality products.