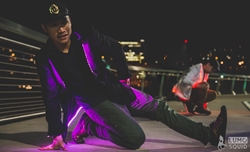 Portland, OR (PRWEB) August 17, 2017
(August 17, 2017)- Portland, Oregon Young Millennial, Vishal Sandhu is all about creating moments and sharing memories with his besties and loved ones too, so he designed a jacket they all could wear, look good in and feel cool wearing too. With a background in engineering and being engulfed with what matters online, Sandhu wanted something that would wow even his then fiancé. Cut from a different clothe, and always standing out in the crowd, thus creating trends oppose to be wrapped up in one, Sandhu created the LitJackets.
Normal is boring, and Sandhu didn't want a traditional Indian wedding, so he turned his passion for creating stylish things into a Light Up Jacket. Like music, the blazers are universal- the colors are synced with the beat. Versatile with a slim LED Rechargeable Battery that charges your smartphone which is turned on by an App switch, and is very compact too.
Digitally connected, this social generation seeks to receive validation through sharing their life's moments, but face the challenge of finding new experiences in old environments, and that's the culture LumoSquid desires to create through LitJackets - your friend can control the colors with their smartphone.
With too many people trying the same thing, how do you, be you? Ideally, LumoSquid wants everyone to enjoy life, live on purpose and be passionate about their every move. Wearing the LitJackets is a head turner as they're compromised of 16 Million Colors through Customizable LED Light Patterns that are Smartphone Controlled via Bluetooth for both iOS & Android - that can help New Customers live lit - in style.
The glow up is real, and LumoSquid wants to connect with Generation X, Y & Z, so we are having a GIVE-A-WAY of the LitJackets via Social Media @LumoSquid. Check out our exclusive videos and pictures here: http://bit.ly/LumoSquidPressKit and Contact Publicist Daphne D. Williams at 864.901.8070 info@DwriteWELL.com
Introducing the world to what's possible-when Tech meets Fashion-is one of our objectives. The entire family will love our garments; they can be sported at Themed Parties, Music Festivals, Family Reunions, Special Occasions, and/or you, our new customers, can be the coming attraction at your Prom or create a magical Photoshoot- the possibilities are endless.
With the seasons changing-these jackets are sure to be the Top Pick for anyone's Holiday Tech Fashion Wish List. Contact Publicist: Daphne D. Williams 864.901.8070 info@Dwritewell.com.