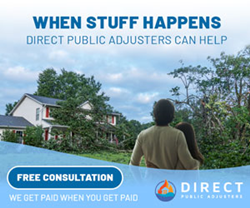 PARSIPPANY, N.J. (PRWEB) February 03, 2023
HOW TO PREPARE FOR WINTER STORMS by Sam Yakubov, Founder of Direct Public Adjusters who recently appeared on the New Theory Podcast:

Track the Weather Forecast to know if the Winter Weather Advisory is a life-threatening hazard. Windstorms & Snowstorms are the top causes of winter property damage.
Maintain heat at your property & let your faucets slightly drip to prevent pipe bursts. Your gutters should also be free of debris to prevent fires or roof problems.
Take before & after photos (dated) for proof of documentation for insurance claims for any water-storm related damage claim such as leaky roofs, interior water damage, frozen – burst pipes etc.
Go somewhere safer to wait out the storm & alert emergency contacts. Snow, strong winds, near-zero visibility, deep snow drifts, & life-threatening wind chill are all reasons to leave the property. A township list of where to find clean drinking water & non-perishable food for emergencies will help you stay safe.
Contact Direct Public Adjusters for all of your property damage claims today.
When a residential or commercial property disaster strikes it can get overwhelming and expensive fast. Sam Yakubov, founder of Direct Public Adjusters & insurance claim settlements expert, shares essential weather advisory winter safety tips.