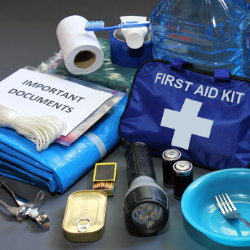 "Preparation on an individual level must increase in 2020. No one is ever truly prepared for the emotional and physical effects that a disaster brings, but we can do much better than we are now."
LAFAYETTE, La. (PRWEB) December 16, 2019
Several factors can help us understand the potential risks when it comes to the prediction of natural disasters. Global warming is contributing to the severity of storms and is a key indicator of what is to come. As temperatures rise in the oceans, sea-levels also rise, heightening flood risks. Warmer air also holds more atmospheric vapor, allowing tropical storms to grow in strength and precipitation. The warmer air is also enabling hurricanes to slow down; the speed of tropical storms has slowed about 10 percent since 1970 [1]. "Preparation on an individual level must increase in 2020," said Sentry Claims Groups' Steven Steckler. "No one is ever truly prepared for the emotional and physical effects that a disaster brings. But we can do much better than we are now."
But it's not just hurricanes and tropical storms that are the problem; earthquakes are a devastating threat, particularly to California residents, due to their direct position over tectonic plates. Talks of another 'Big One' have been circulating for years, and Steckler notes that the losses—financially and physically—could be extreme.
Take these projections for example:

A magnitude 7 earthquake on the Puente Hills thrust under central Los Angeles could potentially kill 18,000 and cause 268,000 injuries
A magnitude 7 earthquake on the Hayward fault in San Francisco could lead to 800 deaths and 18,000 injuries.
A magnitude 7.8 on the San Andreas in Southern California could cause 1,800 deaths and 50,000 injuries [2].
"People don't realize they are at risk – most insurances don't cover for natural disasters so understanding your policy is paramount," said Steckler.
There have been some preparative actions taken by California; they are spending more than $16 million to install thousands of quake-detecting sensors across the state that will give utilities and trains seconds to shut down before the tremors start. A mobile app, ShakeAlertLA, was launched in January 2019 and alerts people of magnitude 4.5 or greater earthquakes. However, the app experienced problems in July when Los Angeles area residents didn't get a notification from the app about the 6.4- and 7.1-magnitude earthquakes in nearby Ridgecrest [3].
On an individual level, homeowners are woefully unprepared. In a survey conducted this past hurricane season, three out of four homeowners in the riskiest coastal states said they felt prepared for flooding and other tropical storms. However, less than half of those surveyed had even taken any precautions [4].
Where does this false sense of preparation come from?
"Unless you've been through it, there's a mentality of 'It'll never happen to me.'" Steckler said. "The problem is it really could--it could happen to anyone. That's the reality, and we need to be better prepared for it on a multitude of levels."
The answer? Be prepared, before natural disasters happen.
Steckler has a few recommendations for homeowners to heed in the new year:
1. Check your policy: "See what is covered by your home insurance and what's not covered. It's crucial to understand exactly what you have before you can figure out what you need."
2. Check out your surroundings: "Double check the risks where your home is located—oftentimes risks can change or intensify and homeowners are none the wiser, especially if you're in a flood zone, reside over a major tectonic plate, or are in tornado county. Look up the frequency of disasters in your area based on past statistics. What months are the worst? Has your flood risk changed? These are all important questions."
3. Make an Evacuation Plan: "All homeowners should have their own evacuation plan to practice in the event of an emergency, especially if they reside in an area prone to natural disasters. Take all your important documents—passports, birth certificates, insurance papers--and put them in one contained area to grab and go. You should also make a map and let people know your potential evacuation route. That way, your loved ones know the route you took in case phone lines go down and communication is not an option."
"As our Earth gets warmer and warmer," concluded Steckler, "Natural disasters are coming at us with more ferocity, frequency and destruction. Preparedness is key moving forward."
About Sentry Claims Group, LLC
Sentry Claims Group, located Lafayette, La., is the leader in providing independent property and casualty claims adjusting services for both catastrophic events and daily claims. Founded in 2014 and led by insurance industry veterans including President Steven Steckler, SCG is built on the core values of best-in-class service, immediate action and unwavering reassurance, and is committed to helping communities and businesses rebuild their lives in the wake of natural disasters. For more information about Sentry Claims Group, visit http://www.scgadjusters.com.
1. Woodward, Aylin. "A Tropical Storm Is Flooding Texas with up to 43 Inches of Rain, Just 2 Weeks after Hurricane Dorian. Here's Why Storms Are Getting Stronger, Slower, and Wetter." Business Insider, Business Insider, 20 Sept. 2019.
2. Lin , Rong-Gong. "I Went to New Zealand to Understand What a Huge California Earthquake Would Look Like." Los Angeles Times, Los Angeles Times, 12 Dec. 2019.
3. Ebrahimji, Alisha. "After Criticism over Lack of Warnings, California's Earthquake Alert App Gets an Upgrade." CNN, Cable News Network, 14 Aug. 2019.
4. Sichelman, Lew. "Disaster Coverage Is a Disaster for Most." Banker & Tradesman, 1 Dec. 2019/