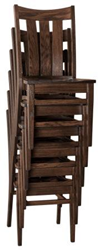 The new Lamont Stackable Dining Chair from Weaver Furniture Sales serves as a 'traditional' dining room chair and an easy-to-store chair rolled into one.
SHIPSHEWANA, Ind. (PRWEB) January 17, 2020
The new Lamont Stackable Dining Chair from Weaver Furniture Sales serves as 'traditional' dining room chair and an easy-to-store chair rolled into one. The chair is available online or by visiting Weaver's 'brick and mortar,' 20,000 square feet store in Shipshewana, Indiana.
The Lamont Stackable Chair has the features normally found in a dining room chair. Amish furniture builders – considered to be the best in the Midwest – handcraft each chair from solid hardwood. Three wide slats provide good back support. Customers can enhance the comfort of the chair by ordering it with an upholstered leather or fabric seat instead of a wood seat. Weaver Furniture Sales offers different leather options plus a plethora of fabrics from which to choose.
The Lamont Stackable Chair fills the bill for a trendy dining room chair which will match most upscale dining room tables. Match your home decor' be selecting your wood, color and Lamont chair features with the custom furniture options available at Weaver Furniture Sales. As with other custom furniture from Weaver Furniture Sales, the Lamont Stackable Dining Chair is available as shown or unfinished.
The stackable feature of the Lamont Dining Chair distinguishes it from most dining chairs on the market. It means homeowners can purchase the same type of chair for use when the dining table is at its smallest size and when the table is fully expanded. The same type of chair is perfect for an accompanying folding table in the dining room to accommodate family members and friends over the holidays.
Because a stack of chairs occupies the same footprint as a single chair, the stacked chairs are easily stored in a closet, beneath a flight of stairs or in a corner of the basement.
The Lamont Stackable Chair diminishes the temptation to use cheap folding chairs or a mismatched medley of chairs when entertaining friends and family.
Customers can order the Lamont Stackable Dining Chair online or by visiting the Weaver family at their large furniture store Shipshewana, Indiana. The store is open daily from 9 a.m. to 5 p.m. and 9 a.m. to 4 p.m. on Saturday. The store is closed on Sundays.
The 20,000 square foot Weaver Furniture Sales showroom is easy to find and is located 1/4 mile south and 1/4 mile east of the junction of State Road 5 and US 20 in Shipshewana, Indiana. When you buy furniture at Weavers, you can take your furniture home with you or Weaver Furniture Sales (or an affiliate) can safely deliver your new furniture to your home or office.
For more information, visit Weaver Furniture Sales website or call 260-768-7730.
About Weaver Furniture Sales
Weaver Furniture Sales was established in 1989 in Shipshewana, Indiana. An Amish, family-owned furniture business, Weaver offers a full line of solid wood, Amish furniture at affordable prices. And Weavers caters to both residential and commercial customers. The company features Shaker, Mission and Traditional furniture styles. As part of their client services, Weaver provides furniture design consultation services, custom furniture options, furniture quotes, layaway options and various delivery alternatives for residences and businesses in the United States.
LeRoy and Ida Weaver own and operate Weaver Furniture Sales. They began with a 1,500 square foot showroom, which has been expanded to more than 20,000 square feet. Previously, they owned and managed LeWana Dairy Farm, where they milked cows and raised corn and hay.