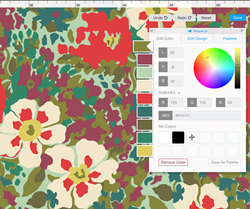 "WeaveUp is in a unique position to help us leverage the power of digital printing to meet the increasing consumer demand for choice. WeaveUp's innovative technology also helps clients reduce product development time and inventory costs which is key for retailers," said Matt Susz, JOANN CFO
DURHAM, N.C. (PRWEB) January 15, 2020
WeaveUp, a SaaS company focused on surface design customization and print room software for digital textile, today announced that it has received a strategic investment from JOANN, the largest retailer of fabrics and crafting supplies in the United States. Following the investment, JOANN Chief Financial Officer, Matt Susz will join WeaveUp's Board of Directors.
WeaveUp will use the capital to extend its lead in digital textile printing software and partner with JOANN on exclusive opportunities to help the retailer tap into the far-reaching potential of digital textile printing.
"With MyFabric, JOANN recognized our ability to create digital textile business opportunities and bring them to market quickly," said Flint Davis, President of WeaveUp. "As digital textile printing continues to disrupt the $147B traditional printing industry, we see tremendous opportunity to reshape product development, supply chains and market responsiveness for brands and manufacturers in the textile industry."
"We invested in WeaveUp for the same reason we partnered with them to launch our MyFabric offering – we believe in the digital future of textiles and in WeaveUp's ability to help us capitalize on it to help customers find the perfect fabric and designs for their needs," said Susz. "WeaveUp is in a unique position to help us leverage the power of digital printing to meet the increasing consumer demand for choice. WeaveUp's innovative technology also helps clients decrease product development time and reduce inventory costs which is key for retailers."
WeaveUp's partners with industry-leading manufacturers and brands including JOANN, Budget Blinds, Koroseal Interior Products and Valley Forge Fabrics in the US and Continental, RA Irwin, Materialised and Skytex internationally. These companies use WeaveUp to provide custom digital solutions to retail, commercial, hospitality, healthcare and government clients around the world.
ABOUT WEAVEUP
WeaveUp's proprietary software allows users to customize a growing library of thousands of designs and digitally print them on multiple substrates. WeaveUp's mission is to enable companies and consumers to benefit from the full potential of digital textile printing by providing an industrial strength, end-to-end customization and production solution. WeaveUp, founded in 2015, is headquartered in Durham, NC. WeaveUp. Settle for perfect.TM For more information, please visit solutions.weaveup.com.
ABOUT JOANN
For more than 75 years, JOANN has inspired creativity in the hearts, hands, and minds of its customers. From a single storefront in Cleveland, Ohio, the nation's leading fabric and craft retailer has grown to include more than 865 stores across 49 states and an industry-leading e-commerce business. With the goal of helping every customer find their creative Happy Place, JOANN serves as a convenient single stop for all the supplies, guidance, and inspiration needed to achieve any project or passion. For store locations, project ideas, and a full product offering, visit joann.com.