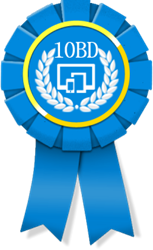 San Francsico, California (PRWEB) May 19, 2014
10 Best Design has released its May 2014 round of awards for the best responsive Web design companies. The responsive Web design category takes into consideration fluidity in user interfaces so that those UIs will work across various devices, including desktop computers, smartphones and tablets. 10 Best Design recognizes that responsive design is necessary in a world where users are logging on to the Internet from their mobile devices more and more frequently.
The May 2014 list includes ten of the country's best Web design companies. The leading responsive Web design company in this month's list is Big Drop Inc, based in New York City. Big Drop Inc specializes in responsive Web design and offers custom mobile solutions to clients. The company also ranked in the number two position on the Best WordPress Web Design list this month.
10 Best Design also awarded responsive Web design accolades to ClikZy from Washington D.C. and Atlanta, Georgia-based The Creative Momentum. Another firm from Atlanta, Southern Web Group, wrapped up the top-ten list for RWD firms this month.
The RWD firms that received awards in May 2014 have shown their dedication to creating function and beautiful designs that respond beautifully no matter what device the visitor is using. 10 Best Design ranked the best RWD agencies based on their existing work and the services that each company offers in the responsive design field.
10 Best Design will refresh their best RWD agencies list in June 2014. The review company will also release overall top lists for the year of 2014.
About 10 Best Design: 10 Best Design is a California-based company that awards Web design firms every month in categories such as responsive Web design, overall best firms and eCommerce design. 10 Best Design uses a custom algorithm to rate each of the firms on the best Web design lists and to rank them in descending order.
10 Best Design also runs a Web design directory and design review service. Web design companies can submit their companies for consideration for inclusion in the directory by selecting the "Submit a Firm" button on their website.