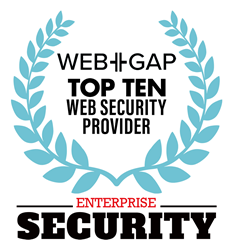 We set out to drive browser isolation into mass market adoption by lowering the price of remote browsers to single digit dollars in order to protect the many, rather than the few with the budget to afford it.
WALNUT, Calif. (PRWEB) October 16, 2020
Browser isolation startup WEBGAP today announced that it had been recognized as top ten web security solution by the readers and editors of Enterprise Security Magazine. Recognizing the need for a cost-effective, secure, and highly-scalable remote browser solution, WEBGAP, a CA-based firm, has developed a proprietary browser isolation platform designed to physically isolate its users from web-based cyber-attacks, thereby, allowing them to browser the internet and use their email without worrying about malware, ransomware or viruses.
WEBGAP CEO Guise Bule said today " I am thrilled that we have been recognized as a top ten web security solution, it is a well deserved recognition of the browser isolation model and a wonderful nod of approval to the team behind the platform at WEBGAP. I am very proud of our team and all of their hard work".
The WEBGAP browser isolation platform can efficiently scale to accommodate millions of simultaneous users. Its innovative 'web page run-time rendering' feature decomposes webpages to strip them of potentially malicious code, before recomposing them into pure HTML for display to the end-user, providing a safer internet and isolating users from malware and web-based cyber-attacks. What's more is WEBGAP uses a DOM-based approach, which means businesses and users can tightly integrate the platform with the local browser to encounter a real native browser user experience—one that supports browser plugins and add-ons.
WEBGAP is available in two deployment models: WEBGAP Go and WEBGAP Enterprise. WEBGAP Go is the multi-tenant, no-frills, remote browser service for individuals and organizations with smaller amounts of users, who do not require platform customization and provides users with a fully managed and fully hosted remote browser. It is priced at 5 dollars per user, per month and can be quickly installed onto any cloud/ virtual/physical server and lets users connect over the internet from any browser. WEBGAP Enterprise, on the other hand, is for larger organizations with a vast number of users and is also a perfect fit for web gateway integration.
To learn more about WEBGAP, visit their website at webgap.io, email them using info@webgap.io, or give them a call on +1 (415) 579-2284 with any questions you might have about their award-winning remote browser isolation solution.