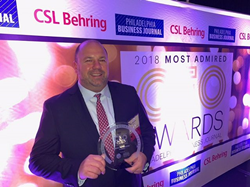 My best ability has been to assemble a dynamic team of people that work alongside of me at WebiMax. Without them, I couldn't have achieved this.
CAMDEN, N.J. (PRWEB) December 07, 2018
The Philadelphia Business Journal hosted the 2018 Most Admired CEO awards this week at the Ritz-Carlton hotel in Philadelphia. The prestigious event gathered award winners from some of the top companies in the Delaware Valley for their commitment to their employees and success in their industry. WebiMax is proud to announce that CEO and Founder, Ken Wisnefski, as a recipient of the prestigious award.
According to their website, the Philadelphia Business Journal selected their award recipients based on the following criteria, "We're looking for men and women who are established leaders with a strong record of innovation in their field, outstanding financial performance, a commitment to quality, a strong vision, a commitment to diversity in the workplace and contributions to Greater Philadelphia."
Wisnefski's track record of success made him the perfect candidate for this honor. In fact, Wisnefski is no stranger to success, having received previous awards from Inc. Magazine recognizing WebiMax as one of the Fastest Growing companies in the USA, along with being named one of Forbes Most Promising companies and Business of the Year from NJBiz. Ken's vision brought WebiMax to the Camden waterfront as the first company to join the New Jersey program.
Ken was quick to point out that his employees helped play a role in his success saying, "While CEOs often get too much credit when things are going well or too much blame when they are going bad, at the end of the day, any company's best asset is its employees." Wisnefski continued, "My best ability has been to assemble a dynamic team of people that work alongside of me at WebiMax. Without them, I couldn't have achieved this."
Wisnfeski and his team at WebiMax have been in business for more than a decade. In addition to helping thousands of clients grow their presence online, WebiMax is also the parent company of MediaWize, which operates the OCNJDaily.com, Downbeach.com, SeaIsleNews.com and SomersPoint.com news sites.
Businesses interested in learning more about Wisnefski and the plethora of digital marketing services offered by WebiMax can call WebiMax at 1-888-932-4629, or visit their brand new WebiMax.com.
About WebiMax:
Driven for success, WebiMax helps its clients achieve tremendous returns via their online marketing efforts. Led by serial web entrepreneur and digital marketing expert, Ken Wisnefski, WebiMax has established itself as one of the most respected digital marketing firms worldwide. WebiMax is proud to provide solutions that positively impact clients ranging from early phase start-ups to Fortune 100 companies. With offices located in New Jersey, California, London and Sydney, WebiMax delivers results. For more information, visit us at WebiMax.com or call 1-888-932-4629.