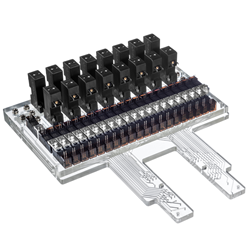 FARMINGTON, Conn. (PRWEB) August 20, 2018
When designing a fluidic system for life science and medical devices, there are many challenges to consider. Designers must ensure what is designed can be manufactured reliably and cost effectively while meeting application needs. In this webinar, we will explore some best practices in flow path design with specific focus on layered manifold technology.
Layered manifold technology allows for the design and fabrication of complex system flow paths to condense tubing sets and leak points, decrease reagent consumption, mitigate sample carry over, and reduce assembly time and errors.
We will explore some common manifold materials used in this process, their strengths and limitations, and the methods by which layers are bonded to maintain track tolerances.
We will also review valving options in flow path design, when to use them, and how to integrate them to develop a complete fluidic sub-assembly.
This webinar draws from real world applications to educate designers on what should be considered when designing fluidic systems for life science and medical devices.
Key Take-Aways
Learn the pros and cons of various materials used in layered manifold technology
Understand the bonding methods used in layered manifold technology
Discover valving options for fluidic systems in life science
Learn how to design systems for manufacturability