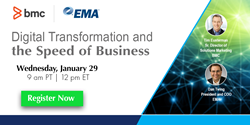 BOULDER, Colo. (PRWEB) January 15, 2020
Enterprise Management Associates (EMA), a leading IT and data management research and consulting firm, today announced it will host a webinar titled "Digital Transformation and the Speed of Business," featuring Dan Twing, President and COO at EMA, and Tim Eusterman, Senior Director of Solutions Marketing at BMC.
A primary goal of digital transformation is to modernize applications to leverage new infrastructures and integrate with new applications so they can support the real-time information requirements of digital business outcomes. Unfortunately, many traditional core business applications are based on legacy architectures that do not have the integration, automation, or orchestration capabilities to support newly envisioned digital service workflows. These applications can hold back and slow down digital transformation efforts.
According to a recent EMA study, 74% of respondents feel digital transformation requires more from their scheduling solutions, and 61% feel that the number of scheduling problems directly affecting business outcomes is increasing.
One reason scheduling problems are increasing is that silos of automation are more prevalent than ever. This is occurring because traditional scheduling solutions have not adapted to new workflows being built in hybrid-cloud environments. To keep up with today's speed of business, organizations are pushing their integration, automation, and orchestration capabilities to the limit, often losing time building from scratch solutions that already exist.
During this webinar, Twing and Eusterman will discuss these challenges and solutions to overcome them, as well as provide insights into:

The 2019 EMA Radar™ Report for Workload Automation
How to prevent potential deficiencies with traditional core business applications
How to drive solution adoption within your teams, from Dev to Ops, to ensure consistency and value at speed
A case study highlighting business benefits and outcomes of leveraging a single end-to-end workflow orchestration solution
The webinar is Wednesday, January 29 at 12:00 p.m. Eastern. Registration is available at http://info.enterprisemanagement.com/digital-transformation-and-the-speed-of-business-webinar-pr.
About EMA
Founded in 1996, EMA is a leading industry analyst firm that specializes in providing deep insight across the full spectrum of IT and data management technologies. EMA analysts leverage a unique combination of practical experience, insight into industry best practices, and in-depth knowledge of current and planned vendor solutions to help their clients achieve their goals. Learn more about EMA research, analysis, and consulting services for enterprise line of business users, IT professionals and IT vendors at http://www.enterprisemanagement.com.