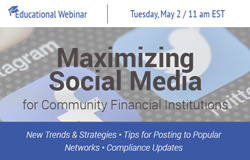 LOUISVILLE, KY (PRWEB) April 19, 2017
BSG Financial Group, a leading provider of revenue-enhancement programs and compliance solutions for financial institutions nationwide, will host a webinar on Tuesday, May 2 at 11 a.m. EST entitled, "Maximizing Social Media for Community Financial Institutions." The free session—which is part of an ongoing educational webinar series that the company provides for its clients and potential customers—will provide strategies for community institutions to enhance their social media efforts by capitalizing on new trends and strategies.
The webinar—especially relevant to bank and credit union Marketing, Social Media and Compliance officers and teams—will explore new trends in social media marketing, review the most popular social media platforms, and provide tips and strategies that can streamline efforts and optimize messaging. The webinar will also present a review of compliance concerns that are relevant to financial institutions, regardless of the sophistication their social media efforts.
The webinar presenter is Sara Harris, Administrative Director for Insight CRM Solutions, developer of Social IQ™, a social media management software system for community financial institutions.
In the 60-minute webinar, attendees will learn:

Update on Popular Social Media Platforms
o Stats on social media use and growth
o Tips for Posting to Facebook; Instagram; Twitter; LinkedIn; YouTube

Strategies to Capitalize on New Trends in Social Media
o Using Employees to Amplify Your Brand
o Getting the Most Out of a YouTube Channel
o Monitoring and Managing Review Sites

o The Growing Importance of Social Media
o FFIEC Guidance
Attendees to the webinar will also be eligible to receive a free 60-day trial of Social IQ™–an online social media management platform for financial institutions–by registering for a no-obligation software demo after the webinar.
Who: BSG Financial Group in conjunction with Insight CRM Solutions, LLC
Presenter: Sara Harris
When: Tuesday, May 2 at 11 am EST
Registration: http://www.bsgfinancial.com/MaximizingSocialMedia
Who Should Attend: Bank and Credit Union Marketing, Social Media & Compliance Officers & Teams 
About BSG Financial Group
Louisville, Ky.-based BSG Financial Group is a group of independently organized companies that provides revenue-enhancement and compliance solutions for financial institutions nationwide. BSG Financial Group has been a provider of innovative overdraft programs since 1999, including the industry's first cloud-based overdraft management solution, Courtesy Connect®/Courtesy Limit™.
 
The company's additional revenue-enhancing solutions include: Fee-Based Packaged Checking Accounts; Digital Lending Solutions; Vendor Management; Account Acquisition Strategies; and Social Media Management.
 
BSG Financial Group includes the following companies: CourtesyCloud Management Solutions, LLC; BSG Financial, LLC; and IQ Development, LLC. For more information about the company, visit http://www.BSGfinancial.com.
  
About Insight CRM Solutions, LLC
Insight CRM Solutions, LLC is a Birmingham, AL-based software company dedicated to providing marketing solutions to community banks and credit unions.
Insight CRM Solutions introduced Social IQ to assist financial institutions in managing their risk assessment strategy surrounding social media compliance. By implementing Social IQ, financial institutions can more easily comply with regulatory requirements, allowing them to actively participate in social media without the risk of incurring compliance violations. For more information about the company, visit http://www.insightcrmsolutions.com.