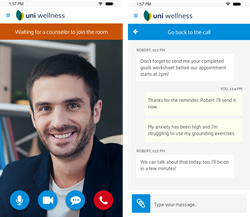 We look forward to being part of this event. It is a great way for us to showcase how UniWellness bridges the gap in student mental health care by expanding and enhancing the reach of university counseling centers. ~Arin Sime, CEO & Founder WebRTC.Ventures and UniWellness
CHARLOTTESVILLE, Va. (PRWEB) April 16, 2019
WebRTC Ventures — a provider of custom, real-time applications with video, voice, and data exchange — has been selected to present their new product, UniWellness, a telemental health application, in the Startup Alley -The Virginia Venture Summit at DownRiver April 24, 2019 at Bon Secours Redskins Training Center in Richmond.
Activation Capital and Venture Forum RVA hosts the DownRiver event in order to bring together people from across Virginia's entrepreneurial ecosystems for a day of networking, learning, and collaboration. Some of the Commonwealth's most promising early-stage companies are chosen to present on Startup Alley.
"Being selected for the DownRiver Startup Alley is very exciting for us," states Arin Sime, WebRTC.ventures and UniWellness CEO and Founder. "We look forward to being part of this event. It is a great way for us to showcase how UniWellness bridges the gap in student mental health care by expanding and enhancing the reach of university counseling centers."
Many schools and private counseling centers want to meet the growing demand for student mental health services but just don't have the staff necessary to meet this need. They often do not have the ability to allow for extended hours visits.
Ginger Germani, UniWellness Director of Telehealth Accounts and a mental health advocate, said, "students at this age face some of the most exciting and daunting challenges of their young lives. UniWellness offers a secure solution to students so they can mental health care on campus and via remote consultations, as well as continue care they were receiving in high school."
For more information about UniWellness or to request a free demo, visit UniWellnessCare.com
To learn more about DownRiver- The Virginia Venture Summit event, visit VenutreForumRVA.com.
ABOUT WEBRTC VENTURES
WebRTC.ventures is a custom design and development agency that specializes in building video communication applications using the WebRTC video standard. Our team of experts in the design and development of WebRTC web and mobile applications spans North and South America, and works with clients around the globe in telehealth, online education, and broadcasting solutions.