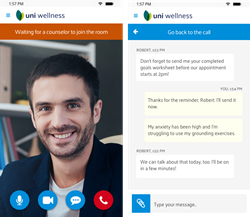 "We care about student mental health. One team member's son died by suicide in college, another team member struggled to access counseling services on her campus, and I worry about my sons when I learned of the student mental health crisis in the United States. We felt compelled to act."
CHARLOTTESVILLE, Va. (PRWEB) April 08, 2019
WebRTC Ventures — a provider of custom, real-time applications with video, voice, and data exchange — today announces that they will present their new product, UniWellness, a telemental health application, at the American Telemedicine Conference April 14-16, 2019 in New Orleans.
Arin Sime, Founder & CEO of WebRTC.ventures and UniWellness said, "We care about student mental health. One team member's son died by suicide in college, another team member struggled to access counseling services on her campus, and I worry about my sons when I learned of the student mental health crisis in the United States. We felt compelled to act."
UniWellness, a HIPAA compliant mental health platform expands and enhances the reach of university counseling centers.
The UniWellness Care app allows more students to meet with their counselors whenever and wherever they need to, using secure video technology and mobile applications.
Branded uniquely for a school or organization, the online platform fills gaps in student mental health care by allowing schools, colleges, and universities to:

Meet the growing demand for student mental health services
Offer extended hours
Provide social and emotional support to students, faculty, and staff
Bring in outside specialists as needed
UniWellness reduce barriers by connecting students to mental health care whenever and wherever because every person matters and every illness hurts.
UniWellness will be demoed in booth IZ5.
For more information or to request a free demo, go to UniWellness
ABOUT WEBRTC VENTURES
WebRTC.ventures is a custom design and development agency that specializes in building video communication applications using the WebRTC video standard. Our team of experts in the design and development of WebRTC web and mobile applications spans North and South America, and works with clients around the globe in telehealth, online education, and broadcasting solutions.