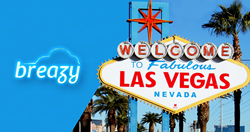 NEW YORK (PRWEB) October 12, 2018
Breazy.com, the world's leading online marketplace for vapor products, has opened a new warehouse in Las Vegas, home to e-commerce giants Amazon and Zappos.
The Brooklyn-based start-up tripled its footprint with the cross-country move. The additional warehouse space in a brand-new, state-of-the-art facility means the company can stock an even wider selection of vaping hardware and e-liquids while continuing to offer the best deals on the Internet.
"Breazy is the world's leading marketplace for vaping products, so it makes perfect sense we are now Amazon's neighbors," said Breazy CEO and Founder, Andy Aranda.
The Wharton grad started the company in his parents' garage in 2014 before upgrading to a warehouse in Northvale, New Jersey. The move out West earlier this month marks a proud milestone for the company. Affectionately known as the Entertainment Capital of the World, the business-friendly city aligns with Breazy's core values.
"Las Vegas opens its arms to people from all over the world who go there to have fun. It respects adults' choices and doesn't judge them," Aranda said. "We hold those same values as a company. We believe in freedom to make informed choices without any stigma. That's why Vegas is the perfect place for us to be a corporate citizen and to grow."
Michael Witalec, Breazy's Vice President of Supply Chain, led the 2,500-mile move, which took one week and several 53-foot tractor trailers. Witalec, who has a Masters of Engineering from MIT, said the people of Vegas could not be friendlier.
"Everyone from the US Postal Service to the Economic Development Bureau to the local Home Depot have been so kind and helpful," Witalec said. "We're already building a team that combines the best of both the East and West Coasts."
Some of Breazy's New Jersey staff are making the move out West. Aranda said he is looking forward to building a strong team at the new location.
About Breazy.com
Breazy.com is an online marketplace for vaping hardware and e liquids. Started in 2014 in a garage, it has grown faster than the overall online vape market to become an industry leader, having surpassed the 100,000th order mark in mid 2017. Breazy's focus has remained on excellent service and innovative techniques to both assist and educate its consumers before and after purchase. In addition, Breazy supplies hundreds of brick-and- mortar retail outlets across the country through the wholesale distribution arm, Breazy Wholesale.