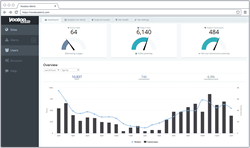 Thankfully, this client had Voodoo Alerts installed on their website, constantly monitoring activity across all sales funnels and goal pages, and received a customized alert, detailing the nature of the malfunction within minutes of the event
Chicago, IL (PRWEB) December 31, 2014
Payment processing services have a huge responsibility to protect client confidentiality, on both sides of the sale. When flags are raised, these payment processors quickly close up shop for vendors until the problem is resolved. This exact scenario occurred between a recent Voodoo Alerts Client and one of their payment processing services. A processing service security protocol left a Voodoo Alerts client without payment processing services for a particular funnel, rendering this funnel broken, that is until Voodoo Alerts website monitoring and automated alerting software notified the client of the breakage, allowing a quick fix of the outage and saving approximately 395 lost sales per hour for the client.
As a stringent protocol, payment processing services must maintain a high level of account security for both the vendor and buyer, as any infiltration can lead to innumerable amounts of stolen currency, among other problems. Sometimes these security measures can lead to a temporary account suspension for vendors, in most cases without warning and for something found to eventually be harmless. This was the case for a recent client of Voodoo Alerts, who thankfully had already installed the company's website monitoring and automated alerting software on their website. The cause for the account being temporarily suspended, was later found to be a result of the vendor selling too many products, too early into their relationship with the payment processing service. It turns out that when a website explodes, and customers buy products really quickly, payment processors get suspicious and make the vendor validate their identity.
For a website not running Voodoo Alerts, this unpreventable service outage can go undetected for days or even weeks, costing countless sales and harming the website's reputation. In this case, the client's website was generating an average of 9.5 thousand sales per day, so when their main payment service decided to suspend payment processing for no reason, the damage done was both large and immediately felt. All told, this error cost this Voodoo Alerts client approximately 593 sales over an outage lasting an hour and a half.
Thankfully, this client had Voodoo Alerts installed on their website, constantly monitoring activity across all sales funnels and goal pages, and received a customized alert, detailing the nature of the malfunction within minutes of the event. The fact that Voodoo Alerts was installed prior to this payment processing error is imperative, as the payment processing service did not notify the client promptly. The powerful Voodoo Alerts website monitoring and alerting software notified the client as soon as sales dropped in this funnel, allowing the client to quickly diagnose the problem and resolve it before any more damage was done. The client was losing an average of approximately 395 sales per hour as a result of this payment processing glitch.
Since Voodoo Alerts was installed on this website, the company's automated website monitoring and alerting was triggered and notified the client of this payment processing glitch immediately. While the processing company did send out an email notifying the client of account suspension, it came much later, and with much less effectiveness than the Voodoo Alerts custom automated alerting, which sends a detailed problem analysis directly to the webmaster's cellphone, resulting in a consistently quicker problem resolution. Thankfully for this client, the Voodoo Alerts automated alerting software also sends SMS messages with detailed website information, so this client got a text message directly, circumventing a sometimes ineffective email notification, of which a site administrator can receive hundreds daily.
Try Voodoo Alerts for free for 30 days, without commitment here, and discover what this powerful website monitoring and automated alerting software can do for a website.
Voodoo Alerts Contact Info:
San Diego, CA
(858) 569-4200
Info(AT)VoodooAlerts.com
Twitter: VoodooAlerts
Facebook: Voodoo-Alerts
Sign up for the VA Newsletter: HERE