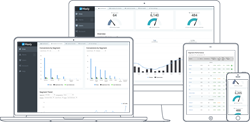 website performance and ability to accurately track conversion activities from their campaigns are the difference between making money online and losing money online
San Francisco, CA (PRWEB) February 27, 2015
As is the case with all top tiered software available today, Voodoo Alerts has outgrown its name, now offering a range of features far too wide to be considered simply a website monitoring and alerting software. With the intention of better representing a growing list of features and services offered, Voodoo Alerts becomes Maxly, a full service website monitoring and performance. Along with a growing list of features and new website performance tools comes a new name and expanded skill set, adding to an already powerful platform, the cornerstone of which is still its potent automated website monitoring and alerting. However, Maxly has grown to be much more than simply website monitoring software, now including a myriad of new features to support and expand upon its linchpin, the intuitive website monitoring and alerting service.
In order to reflect a growing list of services and features, Voodoo Alerts has updated its name to Maxly, which they feel more accurately describes the full feature list of the platform. CEO Jon Correll explains the reasoning behind the switch. "For our customers, their website performance and ability to accurately track conversion activities from their campaigns are the difference between making money online and losing money online, and we felt that Voodoo Alerts didn't quite accurately describe the amount of services and features contained in our product. We found our clients limiting themselves to simply utilizing our website monitoring and conversion monitoring services, when there is actually so much more at their fingertips that was being underutilized."
Along with the name change to Maxly comes a renovated product website and growing list of features and services. Some new features include the extremely intuitive and robust automatic waterfall reporting, putting data in a neat and concise configuration for more accurate and timely analysis.
When compared to its competitors, Maxly offers a more intuitive, more comprehensive platform, absolutely maximizing the potential of website monitoring and automated conversion monitoring for all website owners. "So much is represented in a name" Correll adds. "And we felt that Voodoo Alerts was understating our uniqueness and full range of capabilities. With Maxly, we hope our customers will better realize the potential of our product, utilize its features and capabilities more, and use it to push their website performance and marketing campaigns to the max."
The power of Maxly lies is its autonomy. The software, once installed, will begin autonomous website monitoring across all site sectors, automated conversion monitoring, watching client's conversions closely for disparities, and automatic waterfall reporting, among many other services.
Maxly conducts an automated waterfall test hourly, around the clock, which establishes an accurate site performance baseline, upon which it can now monitor discrepancies or inconsistencies in page load times and a variety of performance metrics. When these discrepancies do arise, Maxly's automatic waterfall reporting provides a detailed analysis, revealing possible site bottlenecks, conversion friction, and overall page performance, while providing pinpoint analysis to ensure a quick resolution for clients. Maxly autonomously runs in the background of any website, gauging performance, monitoring conversions and alerting the client if necessary.
Maxly is more than just website monitoring and automated alerting, it is an all-inclusive, expansive automated conversion surveillance and alerting system designed to empower its users via its ease of use and superior functionality. With a continuously growing list of features and services, the name "Maxly" personifies the company's foremost goal, to make website monitoring and conversion monitoring simple for users, and help website owners push their online efforts to the max.
Want to harness the power of Maxly for your website? Try it for 30 days free of charge here.
Maxly Contact Info:
San Diego, CA
(858) 569-4200
Info(at)Maxly(dot)com
http://www.Maxly.com