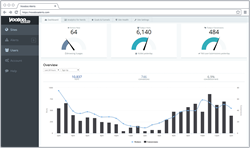 with Voodoo Alerts this client was able to get it fixed quickly, nearly preventing any long-term ramifications like poor reputation with customers, and reduced organic search visibility
New York, NY (PRWEB) November 24, 2014
The internet is a generally trustworthy environment. Websites go to great measures to establish and maintain a trusted rating from search engines and anti-malware providers. It is for this reason, that when online visitors receive a malware warning before visiting a website, most would develop a negative attitude towards that website, taking heed not to visit, and certainly not to purchase anything or leave any personal information. The undeniable truth however is that search engines like Google, and anti-malware software, can actually warn visitors of possible malware, even though the website may be perfectly safe.
A common reason for a website visitor receiving a "warning: something's not right here" notification from Google is the website's peripheral dealings with on-site advertisers. Most internet users are unaware of the infrastructure demanded to maintain the internet. Part of this infrastructure is the inclusion of pixels on a website. Tracking and advertising pixels are extremely important in delivering content online, thus, when one is deemed unsafe, visitors of the website take notice. Pixels can be deemed unsafe at any time, leaving website owners at the mercy of them, and often causing irreparable damage in terms of damaged reputation and lost income.
This exact scenario recently occurred on the website of a Voodoo Alerts client. An advertising pixel being used by the client had suddenly been deemed malicious by Google, causing all incoming organic search traffic to see a warning before being directed to the website. As would be the norm, potential visitors quickly clicked "get me out of here", to be redirected away from the website. This immediately caused a drop in site traffic, and triggered Voodoo Alerts website monitoring software to send out a detailed notification, alerting the client of potential problems affecting certain site sectors.
After receiving the customized alert, the client investigated and easily discovered the effect that this now-deemed-malicious advertising pixel was having on the website, causing traffic to drop to nearly zero. Jon Correll, CEO and Founder of Voodoo Alerts had this to say about the potential harm that a scenario like this can cause a website. Correll relays that "It's really a shame that a perfectly reputable and trusted website, who makes an agreement with an advertiser to place an ad pixel on their site, now has to pay the price for that ad company's product being untrusted. But unfortunately, this type of thing happens every day on the internet, leaving the website owner to deal with the ramifications of not only a complete drop in traffic, but also the often irreparable damage done to the website's reputation, which costs a lot more than money."
However, the difficulty with traditional analytics, like those provided by Google, is that they require human eyes and minds to determine disparities. But with a good conversion alerting system in place, website admins can run website monitoring activities around the clock, and get instant alerts letting them know if their website is broken in any way. A great website monitoring and alerting system will be the fully automated eyes and ears of the website, saving tech team time, and even working on nights and weekends, an impossible time to consistently staff.
Correll adds that "As for this instance, our client received a notification from Voodoo Alerts, informing them that conversion traffic had essentially ceased on a particular funnel. With detailed graphs and information, and a little leg work, they were able to determine the cause of the conversion friction and remove the third party advertisement pixel from their website. The effect of Google's malicious software warning could have been massive, but with Voodoo Alerts this client was able to get it fixed quickly, nearly preventing any long-term ramifications like poor reputation with customers, and reduced organic search visibility. "
Voodoo Alerts is providing a free 30 day trial of their powerful website monitoring software, in four varying tiers of service, allowing a completely scalable analytics and alerting system for companies of any size.
To sign up for a free 30 day trial, simple visit Voodoo Alerts here.
Voodoo Alerts Contact Info:
San Diego, CA
(858) 569-4200
Info@VoodooAlerts.com
Twitter: VoodooAlerts
Facebook: Voodoo-Alerts
Sign up for the VA Newsletter: HERE