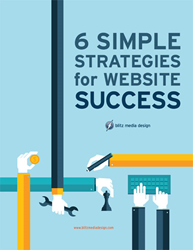 There's a huge opportunity for success if you're willing to invest some effort and make some simple changes in the way you think about your website's design and function
Cincinnati, Ohio (PRWEB) December 04, 2014
Blitz Media Design announced publication of their new "6 Simple Strategies for Website Success" white paper. The PDF is offered as a free download for anyone interested in improving their website success.
Blitz Media Design has reviewed hundreds of client and competitor sites over the years, and observed the same fundamental mistakes made repeatedly. These common mistakes cost the companies money. The white paper provides six fundamental strategies on a goal-focused approach to website design to deliver the desired outcome—and income.
According to Scott de Fasselle, "There's a huge opportunity for success if you're willing to invest some effort and make some simple changes in the way you think about your website's design and function."
The white paper is free of industry-jargon, and helps the reader examine websites in terms that will meet their goals and audience needs. It addresses the pitfalls of getting distracted by design features, and outlines essential steps in creating a successful website.
About Blitz Media Design
Started as Web Refinements in 1999, the Ohio design firm serves clientele across the globe. "Designing for Results" is more than the company's slogan — it's their guiding principle. The design focus is making profit for commercial clients, and getting converts for non-profits.
The company believes that design is not simply about art — a successful design project has specific marketing goals, and requires a collaboration of the client's product or service expertise with Blitz Media Design's usability and design experience.
Blitz Media Design services include services include:

Web Development, including website design, hosting, and search engine optimization.
Graphic Design, including logos, print design, multimedia presentations, and trade show displays.
Marketing Services, including web site promotion, social media, direct mail, and e-newsletters.
Product photography, image restoration, and retouching.
For further information, please visit http://www.blitzmediadesign.com or call 937-550-9950.