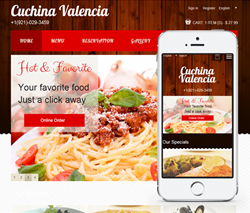 The third party online ordering systems are very costly, 20% on each order plus other fees...In Restaurant Solution you make all your money and get paid immediately.
(PRWEB) August 26, 2014
Now it is affordable for restaurants to have fully functional website, mobile app and have their own online ordering system with one provider - http://restaurantsolution.us.
Restaurant Solution announces the worldwide launch of its SaaS for restaurants, cafes, bars, pubs, bakeries, catering, pizzeria and other food industry players. It enables the restaurants to effortlessly build professional-looking, mobile-friendly websites in just 10 minutes. The revolutionary technology allows restaurants to synchronize the content in the website with the mobile App, so when a user inputs the content in the restaurant website builder, it appears in restaurant's App – a real time saver. Additionally there is a library of different cuisine menu samples with illustrative food images and descriptions. The all-inclusive monthly plan is $99, and comes with online ordering and mobile App when the restaurant website is created.
"The majority of restaurants cannot afford to have their own online ordering developed, and have to use the services of the 3rd parties, which appear to be extremely costly, 20% commission on average plus other fees. Additionally, it takes up to 45 days to be paid and results in a negative cash flow for the business. With Restaurant Solution, the restaurant makes all the money and gets paid fast," said Anastasia Amador, marketing director, Restaurant Solution Inc. "We heard the voices of our customers. Moreover, we have been in their position, owning several restaurants in the US, so it was a matter of putting together the right people who is capable to accomplish the goal, without getting overwhelmed by the ambition and scope of the project."
More and more people surf the web to find restaurants for dinner and to order food online, so having a mobile-optimized website and App is becoming a necessity. According to the latest surveys on dining habits, people are browsing the web through their mobile devices in more than 60% of cases. The restaurant owners are well aware of this growing trend and use a restaurant website builder more often.
The main features of the restaurant website builder are mobile optimized restaurant themes, interactive menu creator tool, online ordering system, upcoming events and image gallery pages. The product is developing quickly and in the next 6 months subscribers can enjoy table reservation, social ordering, CRM and iPad App to create their restaurant website even on the go.
To get started, visit http://restaurantsolution.us. Service is available in the US, Canada and Mexico, soon to extent its coverage to other countries. There is 30 day free trial period and paid plans start at $19.
Restaurant Solution is a information technology pioneer, a team of like-minded developers, programmers and marketing professionals. It began in 2006 as a team of CRM and other software developers, doing some programming adaptions to accommodate the needs of various businesses. Their main focus has been and remains flawless user experience and simple yet usable interface design. According to Restaurant Solution Inc. development director Richard Moore, the majority of website builders on the market are created by web programmers for web programmers and our product, on the other hand, is aimed at solving the needs of the specific audience – the restaurants.
Michelle Judd, Public Relations
Restaurant Solution Inc.
305-517-1667;
restaurantsolutionus1(at)gmail(dot)com