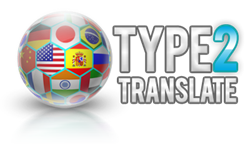 When a business or website advertises its services in only English, they only appeal to roughly 27% of global internet users. By getting a mirrored, multilingual version of their website, they can appeal to a much larger demographic.
Atlanta, Georgia (PRWEB) November 04, 2013
Type 2 Translate LLC was founded in April, 2013 by US Army veteran linguist Matthew Nelson. The translation agency was designed to bring together the quality of professional native translators with fair market pricing.
Since its inception, Type 2 Translate has quickly become a go to resource for document and text translation. The company originally focused on marketing the ability to copy and paste text for translation as well as uploading documents and files for translation.
On November 1, 2013, Type 2 Translate announced that its platform is ready to bring its services of professional translation to the internet market by providing website localization services. Type 2 Translate has built strong connections with various web servicing agencies and marketing firms to enable extended services in website translation.
Creating a multilingual or mirrored version of a current website can help increase visitors who may otherwise never know about the website. Type 2 Translate Founder Matthew Nelson explains "too often I see an English version of a website that looks great to me as a native English speaker, but then I wonder what it would look like if English was not my native language. The truth is, I may never even find the site or know what they have to offer if they don't have a version in my native language".
Based on the geographic demographics of a business as well as the industry the product or service is related to, creating a second or third version of a website can significantly increase the website traffic. According to a 2011 study by Miniwatts Marketing Group, native English speakers only account for 27% of global internet users. Another 56% of global internet users includes native speakers of Chinese, Spanish, Japanese, Portuguese, German, Arabic, French, and Korean while the other 17% make up native speakers of all other languages.
Leveraging the analytic statistics of your industry and website can help you decide if making a translated version of your site could double or triple your sales and web traffic. Type 2 Translate is not just a content translation agency, but also a professional translation agency with website translation expertise and connections to strong online marketing firms.