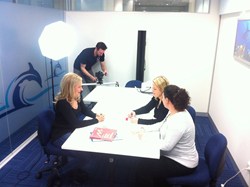 Web video is one of the most effective ways now to gain trust, followers, and new clients
Melbourne, Victoria (PRWEB) August 12, 2013
Just recently Melbourne Video Production released a new video on their homepage and YouTube Channel. In the recording, the web video marketing firm showcases the most effective type of videos on offer to businesses by displaying snippets of completed client work. "It's a known fact amongst industry experts like myself that online consumers prefer watching videos to reading text" says Mr. David Jenyns, marketing expert and owner of Melbourne Video Production, "web video is one of the most effective ways now to gain trust, followers, and new clients."
Over the past century, business trade has changed from needing a physical location for consumers to shop at, to now simply creating a online presence or store. "With lower overheads and a wider audience, the future of online commerce is looking exceptionally bright" remarks Mr. Jenyns. However, the challenge for most businesses now is in developing customer relationships in a human-less, virtual world.
Luckily, experienced online marketers such as Mr. Jenyns saw an easy way to replicate the natural connection that customers like to establish both before and during the purchasing process: web video.
Mr. Jenyns encourages all businesses to begin using online videos if they haven't already, with whatever means they can. "Even though do-it-yourself videos will definitely suffice," explains the web video marketing expert, "when presenting a company or product, the quality of the production really does matter if leaving a positive impression is important, especially for on-page videos like FAQs."
To further help businesses understand which web videos are most effective, the Melbourne Video Production team recently created and launched a new video for their homepage and YouTube channel. "In the video, we walk the viewer through our most popular and successful types of videos for business."
The newly revealed recording shows snippets of client work throughout. "We start off with 'Your Story' or what some might call an 'About Us' video. From there, we showcase the 'Raving Fans' clips, or testimonials. Then we finish with the FAQs, which are great time savers for our clients." says Mr. Jenyns.
Melbourne Video Production can also produce custom videos, "My professional, experienced team can handle all projects. From custom videos, product launches, live events, viral videos and more." Mr. Jenyns enthusiastically says, "if a client wants it recorded and marketed effectively, we can do it."
Mr. Jenyns goes on to explain that his web video marketing company is also "really well positioned to add hype to any video we create because we're backed up by our sister company Melbourne SEO Services, an established online marketing firm with plenty of great results."
In late July 2013, Melbourne Video Production unveiled a new homepage video, which was also launched on their YouTube Channel named Melbourne Videos. The professionally produced recording showcases the most popular videos for businesses. To view the new video, click here or to find out how the web video marketing team can create a custom video, visit: http://www.melbournevideoproduction.com.au/
About Melbourne Video Production
Melbourne Video Production is a division of MelbourneSEOServices.com, a full service search engine optimization (SEO) consultancy, based in Australia, but with a worldwide client base.
Melbourne Video Production has the unique ability to combine their web video expertise with strategic SEO practices from Melbourne SEO.
Director, David Jenyns, has, over several years, built a team of experts who are niche experts to support the business, and who share his ethos for ethical, professional internet marketing and web video.