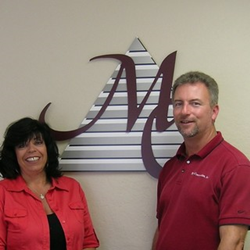 Debbie and I shared a knowing glance and knew right away we were onto something that would benefit our customers.
SAN JOSE, Calif. (PRWEB) October 01, 2020
Greg and Debbie May, co-owners of May Construction, a Santa Clara Valley residential remodeling firm, have recently seen a surge in new business as a direct result of changes made to their customer service model, which they attribute to their status as a married couple working in business together.
The success of May Construction, Inc. has occurred despite the challenges residential remodelers have faced over the past six months. Through careful planning and adapting their business approach to a new reality, the Mays have brought in 12 new design/build projects over the past several months – an unprecedented leap in growth for their business.
"It is not altogether uncommon for residential contracting firms to have a family-owned business with married couples working together," Debbie explained. "But a shift in our communication has led to tremendous growth that would not have been possible had we not been a couple in business together."
"We would not have seen this type of growth even during normal times," Debbie went on "We continue to receive referrals from satisfied clients, but this positive shift is something else entirely."
"As a married couple who own a business together you develop special tools to draw on," Greg added, "especially what I believe is the most important tool of all -- clear communication. It has helped us withstand some hard times in the past and right now has catapulted us forward."
"Greg and I have distinct roles in the company," Debbie elaborated, "As a licensed contractor Greg handles anything directly related to design and/or construction. I do the initial evaluation with clients, as well has oversee business development, do the bookkeeping and manage the office staff."
"In a way it's like a well-timed baton transfer in a relay race," Greg went on. "Everything is planned out well in advance to ensure success. Debbie makes the initial contact with a client, and it's important for her to gather information and see if the project is a good fit. From there, after Debbie's careful screening, I speak to the client in more detail about their remodeling needs."
Greg May is an expert builder, providing the highest standards for superior customer service and backed by integrity, dedication, and commitment to superior craftsmanship.
This important but subtle change in understanding, the Mays believe, could only have come about by being wedded in marriage and in business. "There was an ah-ha couple-type of moment," Greg said. "Debbie and I shared a knowing glance and knew right away we were onto something that would benefit our customers."
"That's something we would not have realized had we not been a couple in business together," Debbie affirmed.
"We found a silver lining," Greg added. "We will continue to use this approach. We feel pretty optimistic about where May Construction is headed."
Greg May was trained in construction by his father, and has continued his family's tradition of excellence since 1977. May Construction. Inc. specializes in design-build, whole house remodels, additions, kitchen, and bathroom remodels throughout the Santa Clara Valley.