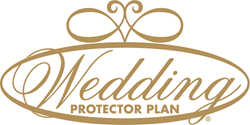 TAMPA, Fla. (PRWEB) January 15, 2019
Wedding Protector Plan® has been recognized by WeddingWire, the leading global online wedding marketplace, and is the 2019 winner of the WeddingWire Couples' Choice Awards® for special event insurance.
WeddingWire, Inc., a leading global online wedding marketplace, annually celebrates the top wedding professionals on WeddingWire across more than 20 service categories, including venues, caterers, florists, photographers, and more. These distinguished vendors exhibit superior professionalism, responsiveness, service, and quality when interacting with the five million monthly consumers who turn to WeddingWire to help ease their wedding planning process.
Wedding Protector Plan® received this esteemed award based on their outstanding experience working with real newlyweds. WeddingWire features more than three million reviews, and Wedding Protector Plan® received positive feedback from customers about the prompt, reliable, and quality service they provide.
Bernadette Green, Executive Vice President of Wedding Protector Plan®, is ecstatic about winning the WeddingWire Couples' Choice Award® 2019 for the fourth straight year. "This award would not be possible without our current and past customers who take the time to review Wedding Protector Plan® and provide us with the positive feedback necessary to earn such a prestigious award."
"We are celebrating our 11th annual Couples' Choice Awards, where we honor our vendors who help make millions of couples' big day one to remember," said Timothy Chi, CEO, WeddingWire. "Not only are these hardworking and distinguished wedding professionals, such as Wedding Protector Plan®, a fundamental part of the wedding planning process for engaged couples, but they help make WeddingWire a trusted source for wedding planning. We congratulate everyone on this well-deserved achievement."
About WeddingWire, Inc.
WeddingWire, Inc. is the leading global online marketplace connecting consumers with event and creative professionals. Operating within a $200 billion industry, WeddingWire, Inc. hosts 10 million monthly unique users across its mobile and web platforms. Consumers are able to read over 3 million vendor reviews and search, compare and book from a database of over 400,000 businesses. Globally, it provides these businesses the technology they need to serve their clients through advertising, marketing and business management tools such as websites, payment processing, invoicing and contracts. Founded in 2007, the WeddingWire portfolio of sites serves couples and businesses across 14 countries in North America, Latin America and Europe.
About Wedding Protector Plan®
Wedding Protector Plan® provides cancellation/postponement wedding insurance coverage for many problems such as severe weather causing wedding cancellation or postponement, transportation shutdowns, lost deposits, and other headaches that can ruin the anticipated celebration. Consumers also have the option to add private event liability with no deductible as an endorsement to their special event insurance policy.
Wedding Protector Plan® is a division of B&B Protector Plans Inc., which is a wholly-owned subsidiary of Brown & Brown, Inc.
Brown & Brown, Inc. (NYSE: BRO) is a leading insurance brokerage firm, providing risk management solutions to individuals and businesses. With Brown & Brown's 80 years of proven success and thousands of teammates, we offer knowledge you can trust and strive to deliver superior customer service. For more information, please visit bbinsurance.com.