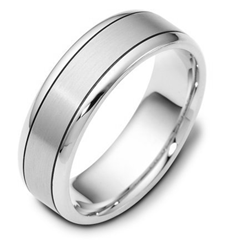 Simple is Beautiful
MINNEAPOLIS (PRWEB) October 23, 2018
WeddingBands.com a leading online seller of luxury wedding bands and eternity rings, announced today it would offer a 5% discount on all plain wedding bands, classic wedding rings and diamond eternity bands, as well as all anniversary and gift items site-wide, starting November 1st, 2018, as a special thanks to our active military members.
"This is a small token of our appreciation to our active military members and all they do to protect our country." said John Kerkinni, Founder at Company Name. "Over the course of our 20 years as an online business, many of our customers are military members. As a part of our mission, we'd like to give back what we can."
The online jewelry retailer is working to expand the discount to veterans, police, firefighters, as well as students over the next six months.
WeddingBands.com is committed to the highest standard in manufacturing wedding rings. All wedding bands are solid and not hollow and manufactured to the finest quality standards and detail.
WeddingBands.com displays hundreds of artfully crafted wedding rings of exceptional originality and spirit. Our wedding bands are manufactured using the latest CNC machining and Computer Aided Design and Manufacturing (CAD CAM). Wedding rings are created using these three basic components; perception, design, and quality fabrication. Backed by a lifetime warranty and 30 Day-No-Questions-Return Policy; at WeddingBands.com no purchase is complete until you are 100% satisfied.
# # #
If you would like more information about this topic, please contact John Kerkinni at 888-422-4333 or email at customerservice@weddingbands.com.